FATHER'S DAY SALE
Gift Dad a private flight and get up to £80 off our gift cards 🛩🎁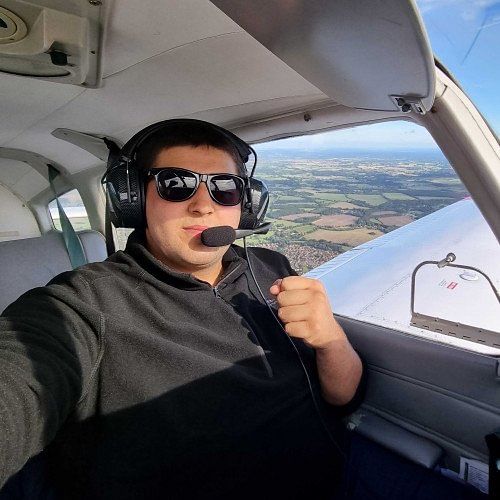 Excursion flight
You will fly from Denham to Sandown to enjoy your time there, then you will fly back.
View flight plan
Private pilot
A private individual flying in their own free time who contributes to the total price through cost sharing.
Description
Experience the ultimate adventure in the skies! Join us for an exhilarating flight from Denham to Sandown Airport on the stunning Isle of Wight. Take a break from the ordinary and indulge in a day filled with delicious food, a leisurely stroll on the beach, and breathtaking sightseeing from the air. Board our comfortable small aircraft and soar above the picturesque English countryside as we make our way to Sandown Airport. Upon arrival, you'll have the opportunity to explore the charming town ...
Flight plan
Sightseeing points

High Wycombe, UK
Reading, UK
Basingstoke, UK
Aircraft
Verified by Wingly
Our team has thoroughly checked the pilots license and medical certificate.
Private pilot
A private individual flying in their own free time who contributes to the total price through cost sharing.
Flight Log
145 total flying hours • 20 flight hours in the last 12 months
Keen aviation enthusiast turned pilot who happens to also be the Operations Manager for Wingly here in the UK I fly the 4 seater Piper PA28 out of Denham Aerodrome. The aircraft are very well equipped and looked after. Please take a look at my flights on offer, and if you would like something slightly different or a date not listed, please send me a message. I am able to create custom flights to match your needs.
Pilot reviews
London City Flight

We had an amazing one-hour flight over London with pilot Ali! From start to finish, the experience was incredible. Ali's calm and kind nature made me feel safe and relaxed throughout the entire journey. His expertise as a pilot was evident as he effortlessly guided the plane through the skies. He took the time to point out notable landmarks and provide interesting information about the city as we flew over them. It added an extra layer of enjoyment and appreciation to the stunning views. I high...

London City Flight

We had a brilliant flight with Ali! He guided us through everything at every step of the flight and, although I was quite anxious, we had a very nice experience. I would highly recommend him :)

Isle of Wight Siteseeing Tour

Amazing flight with a very competent pilot. Great communication before and during the flight. Would highly recommend.

North London Boundary Flight

It amazing experience flying with Ali. He was very friendly with a professional manner. I was so excited when he exceeded beyond our expectations by requesting a permission to overfly close to financial city and London city Airport. The request was accepted and we were the first lucky ones to experience this within his flying time. I would like to thank Ali for making our day more fun and enjoyable.

Delve into the past on a 20 Minute Vintage Biplane Flight

Ali was very organised, replied very quickly, and asked all the right questions. He arrived early, ready to fly and followed all instructions perfectly. I thoroughly enjoyed meeting Ali, and his father - we had a wonderful flight in our 1939 Tiger Moth together. He seemed to enjoy the flight, and experienced the differences between the types of aeroplane he normally flies. We ended the flight with a loop and a barrel roll before coming in to land - and well... The Tiger Moth grin said it all! I ...
Things to know
Total experience time
The total experience time is 5h 45m as it includes briefings and 2h 45m for flying.
Weather
Good weather conditions are required for this flight to take place. The pilot may need to postpone or cancel your booking.
Cancellation policy
You can cancel up to 24 hours before the flight date.
What to bring
Feel free to bring your camera and sunglasses onboard.
We've got you covered
All Wingly flights are automatically covered by our Allianz insurance for claims up to €1,000,000. This covers all passengers and their belongings.
Learn more about the insurance
Frequently asked questions