Christmas Sale 🎄
Save up to €50 with code XMAS.
Almost late for your Christmas shopping👇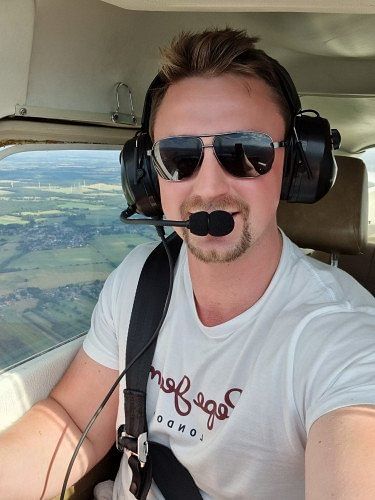 Sightseeing flight
You will fly from Karlshöfen and come back. Enjoy the beautiful landscapes along the way.
View flight plan
Private pilot
A private individual flying in their own free time who contributes to the total price through cost sharing.
Description
Nach einem freundlichen Empfang und einer kurzen Kennenlernrunde, stelle ich dir das Flugzeug vor. Wir machen einen gemeinsamen Vorflugcheck und nehmen anschließen im Flieger Platz. Nachdem wir es und im Cockpit gemütlich gemacht und alle Unklarheiten beseitigt haben, geht es auch schon los. Nach einem unvergesslichen Flug, machen wir noch einige Erinnerungsfotos und verabschieden uns.
Flight plan
Sightseeing points

Bremerhaven, Deutschland
Cuxhaven, Deutschland
Brunsbüttel, Deutschland
Aircraft
Verified by Wingly
Our team has thoroughly checked the pilots license and medical certificate.
Private pilot
A private individual flying in their own free time who contributes to the total price through cost sharing.
Flight Log
69 total flying hours • 27 flight hours in the last 12 months
Danke das du auf meinem Profil gelandet bist, mit dir würde ich gerne gemeinsam starten! Selbst zu fliegen ist mein Kindheitstraum und, nun mit mittlerweile 31 Jahren, habe ich ihn endlich erfüllen können. Seit 2021 besitze ich meine LAPPL(A) und fliege regelmäßig im Nordwestlichen Niedersachsen. Ich fliege ab Karlshöfen(Gnarrenburg) und Nordholz(Cuxhaven). Ich freue mich auf einen unvergesslichen Tag mit dir !
Pilot reviews
Rundflug, eigenes Ziel, flexibler Flug

Es war ein sehr schöner Tag Hat mächtig Spaß gemacht Alex hat uns einiges erzählt über das Fliegen wir sind über unser Haus geflogen und dann nach Hamburg .War echt klasse und Alex ist ein ganz netter Würden jederzeit wieder mit ihn fliegen

Rundflug Hamburg-Hafencity

Ich hatte ein wunderschönes Erlebnis mit meinem Rundflug. Alex war super nett ist auf meine Wünsche eingegangen und hat alle meine Fragen zum zum Flugzeug und fliegen beantwortet und toll erklärt. Ich werde auf jeden Fall wieder mit ihm fliegen es war wirklich klasse. Mach weiter so und Grüße Sebastian
Things to know
Total experience time
The total experience time is 2h as it includes briefings and 1h 30m for flying.
Weather
Good weather conditions are required for this flight to take place. The pilot may need to postpone or cancel your booking.
Cancellation policy
You can cancel up to 24 hours before the flight date.
What to bring
Feel free to bring your camera and sunglasses onboard.
We've got you covered
All Wingly flights are automatically covered by our Allianz insurance for claims up to €1,000,000. This covers all passengers and their belongings.
Learn more about the insurance
Frequently asked questions