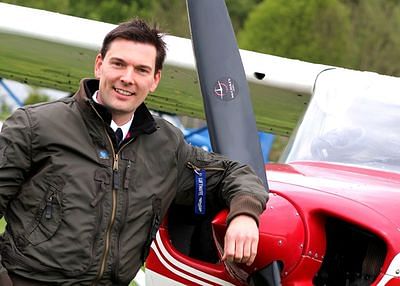 Sightseeing flight
You will fly from Uetersen and come back. Enjoy the beautiful landscapes along the way.
View flight plan
Private pilot
A private individual flying in their own free time who contributes to the total price through cost sharing.
Description
Wir starten in Uetersen und fliegen entlang der Elbe in Richtung Hamburg. Dabei überfliegen wir das Airbus-Werk in Finkenwerder und die Container Terminals der HHLA. Nach ein paar Kreisen über der Hamburger Innenstadt, Hafen City, Landungsbrücken und der Alster fliegen wir je nach Verkehrslage einen Low Approach am Hamburger Flughafen. Wenn Wünsche bestehen, den eigenen Wohnort oder Stadtteil aus der Luft zu sehen, bitte mir vor dem Flug mitteilen. Ich werde dem gerne entsprechen und die Route a...
Flight plan
Sightseeing points

Wedel, Deutschland
Airbus, Kreetslag, Hamburg, Deutschland
HHLA Container Terminal Burchardkai GmbH, Hamburg, Deutschland
Aircraft
Verified by Wingly
Our team has thoroughly checked the pilots license and medical certificate.
Private pilot
A private individual flying in their own free time who contributes to the total price through cost sharing.
Flight Log
327 total flying hours • 33 flight hours in the last 12 months
Als Ingenieur fliege ich sowohl privat in meiner Freizeit, als auch gelegentlich zu geschäftlichen Terminen. Es ist mir immer eine große Freude, wenn ich meine Begeisterung und Leidenschaft für die Luftfahrt mit meinen Gästen an Bord teilen darf. Daher ist eine ausführliche Erklärung des Luftfahrzeugs und der Flugvorbereitungen sind grundsätzlich inklusive. Alle Passagiere an Bord bekommen von mir ein Headset und hören den Sprechfunk mit der Flugsicherung live mit. Bei mir fliegen Sie nicht nu...
Pilot reviews
Fliegen gegen Flugangst

Flugangst - Flug mit André - keine Flugangst mehr Top Pilot. Es war mega cool. André hat uns von Start bis Landung alles super erklärt. Es hat so viel Spaß gemacht, dass wir in Kürze das wiederholen werden. Absolut empfehlenswert und immer wieder gern. Danke

Mitflug über Hamburg

Einfach Spitze, allen empfohlen

Flug zur Deutschen Bucht

André integriert seine Fluggäste in den gesamten Ablauf, Wünsche wurden berücksichtigt und wir fühlten uns während des Fluges sehr gut aufgehoben. Es war eine ganz tolle Erfahrung und wir sind sehr begeistert! Vielen Dank!

Mitflug über Hamburg

Super netter Pilot. Es war eine großartige Erfahrung, man merkt das er das mit viel Freude und Spaß macht. Wir waren nicht das letzte Mal mit André unterwegs. Dankeschön 😊

Fliegen gegen Flugangst

Es hat unglaublich viel Spaß gemacht und war sehr interessant! Vielen Dank für das schöne Erlebnis. Wir kommen gerne wieder.
Things to know
Total experience time
The total experience time is 45m as it includes briefings and 45m for flying.
Weather
Good weather conditions are required for this flight to take place. The pilot may need to postpone or cancel your booking.
Cancellation policy
You can cancel up to 24 hours before the flight date.
What to bring
Feel free to bring your camera and sunglasses onboard.
We've got you covered
All Wingly flights are automatically covered by our Allianz insurance for claims up to €1,000,000. This covers all passengers and their belongings.
Learn more about the insurance
Frequently asked questions