Christmas Sale 🎄
Save up to €50 with code XMAS.
Almost late for your Christmas shopping👇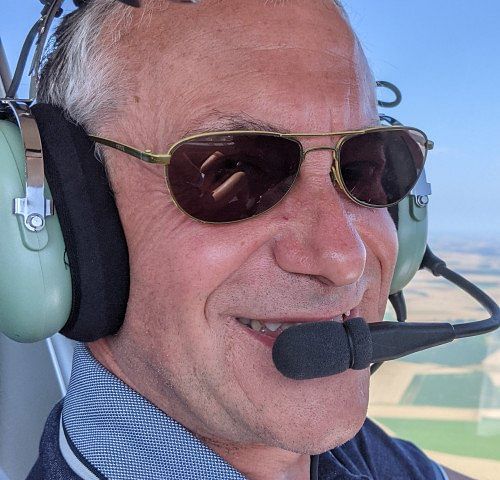 Sightseeing flight
You will fly from Vendin-le-Vieil and come back. Enjoy the beautiful landscapes along the way.
View flight plan
Private pilot
A private individual flying in their own free time who contributes to the total price through cost sharing.
Description
Au départ de Lens Bénifontaine, nous survolons notre Dame de Lorette, le Monument Canadien, le Mont St Eloi, à partir d'Abbeville le canal de la Somme, la Baie de Somme, le Musée Louis Philippe, le Tréport, la Baie d'Authie et le circuit de Croix en Ternois. 2 Passagers au minimum pour ce vol, éventuellement 3 en fonction du poids.
Flight plan
Sightseeing points

Notre Dame de Lorette, Place de Notre Dame de Lorette, Ablain-Saint-Nazaire, France
Mémorial national du Canada à Vimy / Canadian National Vimy Memorial, Chemin des Canadiens, Givenchy-en-Gohelle, France
Rue de Mont Saint-Eloi, Villers-au-Bois, France
Aircraft
Verified by Wingly
Our team has thoroughly checked the pilots license and medical certificate.
Private pilot
A private individual flying in their own free time who contributes to the total price through cost sharing.
Flight Log
142 total flying hours • 28 flight hours in the last 12 months
Passionné par l'aviation depuis mon enfance, j'ai commencé ma formation en Août 2016, obtenu le brevet de base puis la licence PPL en 2020. Je suis qualifié sur APM30, DR400 et DA40 TDI, avions de l'aéroclub Gaston Vailler de Lens Bénifontaine. Je souhaite vous faire partager ma passion de l'aviation à bord du DA40 TDI à la découverte des Hauts de France.
Pilot reviews
Vol Baie de Somme, Le Tréport, Baie d'Authie et Caps

Vol effectué ce matin avec Michel, Nous avons passé 2h à en prendre pleins les yeux. Michel est un pilote très professionnel qui a pris le temps de nous expliquer en détail le fonctionnement de l'appareil. Il nous à détaillé aussi le plan de vol tout au long du parcours, je recommande fortement Michel vous pouvez voler avec les yeux fermés. Encore merci pour cette expérience. Je n'hésiterez pas a réserver un nouveau vol avec vous. Bonne soirée

Vol Baie de Somme et Baie d'Authie

Superbe matinée avec Michel! Un vol de 1h20 afin de survoler la baie de somme pour l'anniversaire surprise de ma copine et ce fut une magnifique expérience! Michel est à l'écoute de nos attentes, répond à toutes nos questions sur l'avion et les alentours avec une petite pointe d'humour :) Il s'adapte à nos disponibilité et il n'y aucun problème si jamais la date réservée n'est pas compatible avec un temps agréable et/ou avec une vue dégagée, il change la journée du vol selon nos planning! Je r...

Baie de Somme Le Tréport Authie Caps Audomarois Mts Flandres

Super vol avec Michel dans des conditions météorologiques idéales. Michel est agréable et a pu répondre à nos questions. Le vol s'est passé comme cela a été prévu.

Vol Boulogne Cap Gris Nez et Cap Blanc Nez

Un vol tellement attendu... et conforme aux espérances !!!! Michel est très professionnel, on est en sécurité. Décollage rapide et confortable. Découverte d'un paysage varié entre terrils, villages ouvriers, côte d'Opale, caps et villes....tout est surprenant vu d'en haut !!! Magnifique expérience à faire pour bien voir et protéger notre belle TERRE

Vol découverte Baie de Somme, Le Tréport et Baie d'Authie

Bonjour Michel , merci beaucoup pour ce magnifique vol découverte qui nous a enchanté par les beaux paysages et la qualité du pilotage Mais c'est avant tout la gentillesse et l'esprit de partage de Michel que nous garderons en mémoire. La passion et le dévouement. Nous recommandons vivement. Merci encore Pierre et Paul.
Things to know
Total experience time
The total experience time is 1h 35m as it includes briefings and 1h 35m for flying.
Weather
Good weather conditions are required for this flight to take place. The pilot may need to postpone or cancel your booking.
Cancellation policy
You can cancel up to 24 hours before the flight date.
What to bring
Feel free to bring your camera and sunglasses onboard.
We've got you covered
All Wingly flights are automatically covered by our Allianz insurance for claims up to €1,000,000. This covers all passengers and their belongings.
Learn more about the insurance
Frequently asked questions