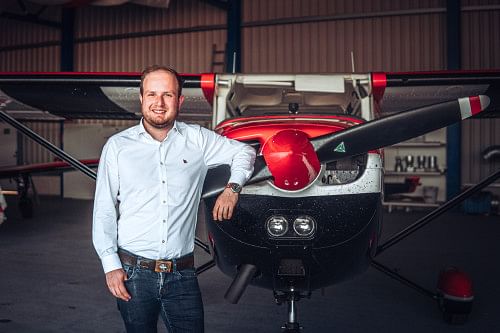 Sightseeing flight
You will fly from Jahnsdorf and come back. Enjoy the beautiful landscapes along the way.
View flight plan
Private pilot
A private individual flying in their own free time who contributes to the total price through cost sharing.
Description
Nach gemeinsamer Flugvorbereitung starten wir in Chemnitz Jahnsdorf in Richtung Erzgebirge. In ca. 1km Höhe haben wir die Möglichkeit für die ersten schönen Fotos. Vielleicht finden wir ja sogar schnell Dein Zuhause und können eine schöne Runde darüber drehen. Die weitere Route ist von Dir und Deinen Gästen frei wählbar. Nach einer kurzen Runde über das Erzgebirge gehen wir wieder in den Landeanflug des Flugplatzes Chemnitz Jahnsdorf. Nach einer gemeinsamen Auswertung unseres Fluges stelle ich ...
Flight plan
Sightseeing points

Augustusburg, Deutschland
Geyer, Deutschland
Aircraft
Verified by Wingly
Our team has thoroughly checked the pilots license and medical certificate.
Private pilot
A private individual flying in their own free time who contributes to the total price through cost sharing.
Flight Log
600 total flying hours • 250 flight hours in the last 12 months
Hallo und herzlich Willkommen auf meinem Profil. Ich bin Philipp, 36 Jahre alt und begeisterter Pilot und Fluglehrer. Ich freue mich, dass wir die Begeisterung für das Fliegen teilen und vielleicht schon bald zusammen im Cockpit sitzen können! Im Jahr 2019 habe ich meine private Pilotenausbildung abgeschlossen und befinde mich aktuell auf dem Weg zu beruflichen Pilotenausbildung. Schon seit meiner Kindheit verfolge ich einige technische und anspruchsvolle Hobbys. Viele Sprüche und Weisheiten s...
Pilot reviews
Rundflug- Erzgebirgsrundflug 40 min für bis zu 3 Personen

Philipp war sehr flexibel und ging perfekt auf unsere Routenwünsche ein. Er erklärte uns alles sehr verständlich und wir konnten den Flug in vollen Zügen genießen. Wir können jedem einen Flug mit Philipp weiterempfehlen - gerne wieder!

Rundflug- Erzgebirgsrundflug 50 min für bis zu 3 Personen

Sehr angenehmer Flug, sehr angenehmer Pilot! Kann es nur weiterempfehlen! :)

Rundflug- Erzgebirgsrundflug 30 min für bis zu 3 Personen

Philipp hat uns alles schön erklärt und ist genauso geflogen wie wir es gewünscht hatten. Markante Punkte wie zb die Augustusburg wurden mehrfach angesteuert für ein optimales Flugerlebnis. Ist nur zu empfehlen, auch das Drumherum mit tollem Ambiente im Airportcafe lohnen sich. Dankeschön

Rundflug Lausitz und Senftenberg

Sehr schöner Flug und eine nette Flugbegleitung.

Kurzer Rundflug über Chemnitz für 3 Fluggäste

Ich bin total dankbar für diesen Abschiedsflug über mein zu Hause! Philipp war zum Glück zeitlich so flexibel, dass wir trotz meines Umzugs einen Termin gefunden haben. Er ist total freundlich und hat uns unterwegs immer wieder darauf hingewiesen, was wir überfliegen. Auf mein Wunschziel ist er eingegangen und extra mehrmals über Aue gekreist. Vor lauter staunen und schauen hatten wir gar nicht so viele Fragen, aber wenn, dann ist er darauf eingegangen. Ich kann euch also nur empfehlen, mit Phil...
Things to know
Total experience time
The total experience time is 35m as it includes briefings and 35m for flying.
Weather
Good weather conditions are required for this flight to take place. The pilot may need to postpone or cancel your booking.
Cancellation policy
You can cancel up to 24 hours before the flight date.
What to bring
Feel free to bring your camera and sunglasses onboard.
We've got you covered
All Wingly flights are automatically covered by our Allianz insurance for claims up to €1,000,000. This covers all passengers and their belongings.
Learn more about the insurance
Frequently asked questions