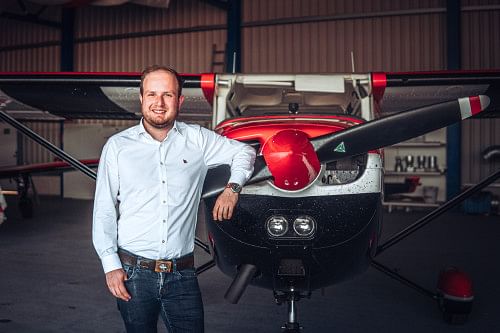 Sightseeing flight
You will fly from Jahnsdorf and come back. Enjoy the beautiful landscapes along the way.
View flight plan
Private pilot
A private individual flying in their own free time who contributes to the total price through cost sharing.
Description
Willst Du mit Deiner Familie ein besonderes Erlebnis? Oder möchtet Ihr gemeinsam einmal Chemnitz von oben sehen? Dann ist dies genau das Richtige für euch. Auf diesem Rundflug seht Ihr nach dem Start in Chemnitz Jahnsdorf die legendäre Rennstrecke Sachsenring. Nach einem Bogen über den Sonnenlandpark fliegen wir Richtung Augustusburg. Diese zeigt sich schon imposant auf dem Berg. Von da aus geht es direkt nach Geyer zu den Greifensteinen. Vielleicht kann man sogar ein Schauspiel auf der Naturbüh...
Flight plan
Sightseeing points

Sachsenring, Am Sachsenring, Oberlungwitz, Deutschland
Sonnenlandpark Lichtenau, Sachsenstraße, Lichtenau, Deutschland
Augustusburg, Deutschland
Aircraft
Verified by Wingly
Our team has thoroughly checked the pilots license and medical certificate.
Private pilot
A private individual flying in their own free time who contributes to the total price through cost sharing.
Flight Log
500 total flying hours • 180 flight hours in the last 12 months
Hallo und herzlich Willkommen auf meinem Profil. Ich bin Philipp, 36 Jahre alt und begeisterter Pilot. Ich freue mich, dass wir die Begeisterung für das Fliegen teilen und vielleicht schon bald zusammen im Cockpit sitzen können! Im Jahr 2019 habe ich meine private Pilotenausbildung abgeschlossen und befinde mich aktuell auf dem Weg zu beruflichen Pilotenausbildung. Schon seit meiner Kindheit verfolge ich einige technische und anspruchsvolle Hobbys. Viele Sprüche und Weisheiten sagen: "der Wu...
Pilot reviews
Rundflug Deiner Wahl - was willst Du sehen?

Ein super Pilot geht auf wünsche ein was die Flugrute betrifft und erklärt auch alles super , kann man guten gewissens weiterempfehlen. Gerne wieder.

Kurzer Rundflug über Chemnitz für 3 Fluggäste

Angenehmer Flug mit sehr guten Erklärungen des Piloten.

Rundflug- Erzgebirgsrundflug 40 min für bis zu 3 Personen

Terminbuchung war reibungslos ohne Probleme Kommunikation ebenfalls super. Am Tag selber war zwar kurzzeitig etwas verwirrend aber dann ging alles wieder ohne Probleme Flug selbst war sehr schön hat gut erklärt und uns dahin geflogen wo wir wollten. Sehr gerne wieder

Rundflug- Erzgebirgsrundflug 50 min für bis zu 3 Personen

Wir hatten heute ein schönes Mutter-Tochter-Erlebnis bei bestem Flugwetter. Danke Philipp für den schönen Flug und die individuelle Flugroute.

Schlösser und Burgen des Erzgebirge - Rundflug -

Der gewünschte Flug wurde umgehend vom Piloten akzeptiert und die Hinweise zur Anreise und zum Flug waren sehr hilfreich. Vor dem Abflug als auch während des Fluges erklärte der Pilot viele interessante Details zum Flugzeug, der Funkkommunikation mit der Flugüberwachung und natürlich zu markanten Punkten, die auf der von uns ausgesuchten Route lagen. Dabei war Philipp auch sehr flexibel und machte unsere Sonderwünsche beim Rundflug möglich. Jederzeit würden wir gerne wieder einen Rundflug mit Ph...
Things to know
Total experience time
The total experience time is 30m as it includes briefings and 30m for flying.
Weather
Good weather conditions are required for this flight to take place. The pilot may need to postpone or cancel your booking.
Cancellation policy
You can cancel up to 24 hours before the flight date.
What to bring
Feel free to bring your camera and sunglasses onboard.
We've got you covered
All Wingly flights are automatically covered by our Allianz insurance for claims up to €1,000,000. This covers all passengers and their belongings.
Learn more about the insurance
Frequently asked questions