Christmas Sale 🎄
Save up to €100 with code XMAS.
Almost late for your Christmas shopping👇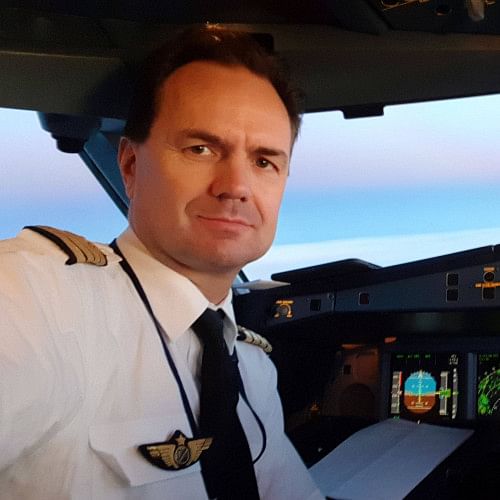 Excursion flight
You will fly from Toussus-le-Noble to Toussus-le-Noble to enjoy your time there, then you will fly back.
View flight plan
Private pilot
A private individual flying in their own free time who contributes to the total price through cost sharing.
Description
Balade en hélico pour 2 ou 3 passagers Toussus, Saclay, Orsay déjeuner au golf de Courson Château de Courson, Château de Baville, Château du Marais, Château de Rochefort Centre National du Football de Clairefontaine, Limours, Toussus Mise en route Décollage de l'aérodrome de Toussus le Noble Saclay N118 Orsay Les Ulis autoroute A10 Château de Janvry Briis-sous-Forges atterrissage et déjeuner au golf de Courson (chacun paie son repas) décollage du golf de Courson Château de Courson Château de Ba...
Flight plan
Sightseeing points

Le Christ, Saclay, France
Orsay, France
La Folie Bessin, France
Aircraft
Verified by Wingly
Our team has thoroughly checked the pilots license and medical certificate.
Private pilot
A private individual flying in their own free time who contributes to the total price through cost sharing.
Flight Log
16000 total flying hours • 300 flight hours in the last 12 months
Passionné d'avions et d'hélicoptères, désireux de partager ma passion et de faire découvrir les joies du vol. Pilote de ligne depuis 30 ans. Prudent et consciencieux. La sécurité est ma priorité. 🇫🇷🇬🇧🇷🇺🇪🇸 ✈️ Pilote de ligne avion, Commandant de Bord sur A330 et A350 : 16 000 heures de vol. 🚁 Pilote professionnel hélicoptère : 500 heures de vol, sur Robinson 22 et Robinson 44 : - autorisation hélisurfaces (zones exiguës) - habilitation héliport de Paris Issy-les-Moulineaux - qualificat...
Pilot reviews
Hélico : Toussus-Moulineaux-Toussus | 2-3 passagers

Cyril est un excellent pilote passionné, pédagogue et d'une extrême gentillesse. Son pilotage est d'une fluidité et finesse exceptionnelle. Le vol à destination d'Issy les Moulineaux est absolument incroyable. Je recommande vivement !

Hélico - Tour de Paris ↺ | 2 ou 3 passagers 55 minutes

Expérience incroyable et inoubliable en compagnie de Cyril, excellent pilote que nous recommandons chaudement car en plus de ses qualités d'aviateur, c'est un passionné pédagogue de l'aéronautique. Merci.

Hélico - Tour de Paris ↺ | 1 passager 60 minutes

Cyril est très pro, accueillant, chaleureux, disponible, attentionné. Un régal de vol !! A refaire avec grand plaisir. Eric H

Hélico - Tour de Paris ↺ | 2 ou 3 passagers 55 minutes

Cyril is an excellent, enthusiastic pilot who was very happy to provide a narrated tour of Paris and the R44 helicopter and its controls. He was very communicative before, during, and after the tour (he is very fluent in English), with clear instructions for arrival, expected route, and safety. He also offers an edited 360-degree video of your tour so you can hold onto your great memory of the flight. Being 1000'-2000' up is a totally unique perspective on the layout and architecture of the ci...

Hélico : Déjeuner au Restaurant Le Belvédère, Etretat

Nous avons passé, avec ma future épouse une journée magique en compagnie de Cyril. Nous sommes allés à Etretat depuis Toussus, le déjeuner au Belvédère est très bien, peut-être un peu trop copieux. :) vous pouvez ensuite prendre le bus direction le centre ville pour une balade sur la plage, les jardins et la falaise d'aval. Le coucher de soleil en vol fut superbe ! Merci beaucoup Cyril pour cette journée inoubliable. :) À bientôt, Mat et Marie
Things to know
Total experience time
The total experience time is 45m as it includes briefings and 45m for flying.
Weather
Good weather conditions are required for this flight to take place. The pilot may need to postpone or cancel your booking.
Cancellation policy
You can cancel up to 24 hours before the flight date.
What to bring
Feel free to bring your camera and sunglasses onboard.
We've got you covered
All Wingly flights are automatically covered by our Allianz insurance for claims up to €1,000,000. This covers all passengers and their belongings.
Learn more about the insurance
Frequently asked questions