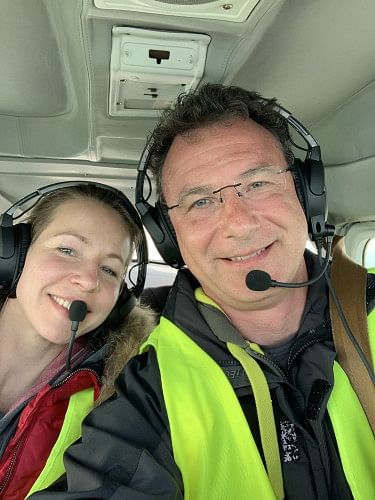 Sightseeing flight
You will fly from Lübeck and come back. Enjoy the beautiful landscapes along the way.
View flight plan
Private pilot
A private individual flying in their own free time who contributes to the total price through cost sharing.
Description
Wir fliegen von Lübeck-Blankensee entlang der A1 in Richtung Hamburg. Die Route können wir nach persönlichen Präferenzen wählen (Zum Beispiel über Ahrensburg oder Barsbüttel). Wir fliegen dann in die Kontrollzone Hamburg und haben Zeit für ein paar Runden über Außenalster, Binnenalster, Rathausmarkt, Speicherstadt, Elfi ... 👍. Wir fliegen über dem Hafen und dann westlich immer der Elbe entlang. Wir sehen den Elbstrand, das Airbus Gelände und verlassen dann am Jachthafen Wedel die Kontrollzone. ...
Flight plan
Sightseeing points

Hamburg, Deutschland
Wedel, Deutschland
Norderstedt, Deutschland
Aircraft
Verified by Wingly
Our team has thoroughly checked the pilots license and medical certificate.
Private pilot
A private individual flying in their own free time who contributes to the total price through cost sharing.
Flight Log
490 total flying hours • 100 flight hours in the last 12 months
Wohne in Stapelfeld bei Hamburg. Ich fliege Cessna 172 oder Cessna 182. Beide Maschinen sind Hochdecker und bieten damit einen perfekten Ausblick für Rundflüge. Fliegen ist für mich ein phantastisches Hobby und ich genieße jede Minute in der Luft. Wingly gibt mir die Chance meine Leidenschaft mit anderen Menschen zu teilen und Freude zu schenken. Es macht mir riesigen Spaß die Begeisterung meiner Passagiere zu erleben. Den einen oder anderen konnte ich auch schon inspirieren selbst mit dem Flieg...
Pilot reviews
Rundflug ab Lübeck with Björn

Sehr freundlicher, versierter Pilot. Sehr gute Einweisung und Erklärungen während des Fluges. Sind bereits das zweite Mal mit ihm geflogen und empfehlen ihn hiermit gerne weiter. Bis zu nächsten Mal Björn und Claudia

1 Stunde nach Wahl - bis zu 3 Erwachsene

Wir sind sehr begeistert vom Piloten Carsten! Die Kommunikation vorab war unkompliziert und auch die Durchführung des Flugs war sehr gut. Carsten ist ein guter Entertainer und Flieger! Gerne werden wir ihn weiterempfehlen!

Die große Tour einmal um Hamburg mit allen Highlights

Wir hatten ein wunderschönes Erlebnis, an das wir uns immer wieder gerne erinnern werden. Carsten ist ein cooler Pilot, der vieles erklärt und alle Fragen gerne beantwortet hat. Wir haben uns super aufgehoben gefühlt und würden jederzeit wieder mit ihm losfliegen! Die Zeit ist im wahrsten Sinne des Wortes, wie im Flug vergangen :-)

Lübecker Bucht bis Fehmarn - Karibikfeeling pur

Durch die herzliche Begrüßung und der super entspannten Stimmung haben wir uns zu jedem Zeitpunkt auf diesem Flug sicher und gut aufgehoben gefühlt. Man merkt sofort, dass Carsten mit Leidenschaft Pilot ist. Der Flug mit dir Carsten war ein unbeschreibliches Erlebnis, Dankeschön nochmal!

Lübecker Bucht bis Fehmarn - Karibikfeeling pur

Danke Carsten , es war wieder ein wunderbares Erlebniss mit Dir zu fliegen. Wir haben uns sehr wohl und Sicher Gefühlt. Ich kann Carsten in allen Punkten weiter Empfehlen. Danke auch für die sehr guten Erklärungen . Wir werden Dich und Wingly auf jeden Fall gerne weiter empfehlen. Bis zum nächsten Mal. LG hannes und Franziska
Things to know
Total experience time
The total experience time is 1h 30m as it includes briefings and 1h 30m for flying.
Weather
The pilot is authorised to fly in difficult weather conditions (Instrumental Flight Rules).
Cancellation policy
You can cancel up to 24 hours before the flight date.
What to bring
Feel free to bring your camera and sunglasses onboard.
We've got you covered
All Wingly flights are automatically covered by our Allianz insurance for claims up to €1,000,000. This covers all passengers and their belongings.
Learn more about the insurance
Frequently asked questions