Christmas Sale 🎄
Save up to €100 with code XMAS.
Almost late for your Christmas shopping👇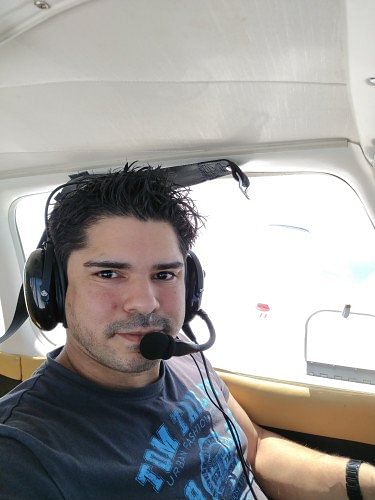 Sightseeing flight
You will fly from Lübeck and come back. Enjoy the beautiful landscapes along the way.
View flight plan
Private pilot
A private individual flying in their own free time who contributes to the total price through cost sharing.
Description
Dieser Flug führt uns von Lübeck nach Hamburg. Von Osten her fliegen wir in die Hamburger Kontrollzone ein bis zur Süserelbe, dann beginnt der Rundflug über dem Hamburger Hafen und der Elbphilharmonie. Danach geht es zur Außenalster und wieder zurück nach Lübeck.
Flight plan
Sightseeing points

Hamburger Hafen, Hamburg, Deutschland
Elbphilharmonie, Hamburg, Deutschland
Hauptkirche St. Michaelis, Englische Planke, Hamburg, Deutschland
Aircraft
Verified by Wingly
Our team has thoroughly checked the pilots license and medical certificate.
Private pilot
A private individual flying in their own free time who contributes to the total price through cost sharing.
Flight Log
230 total flying hours • 175 flight hours in the last 12 months
Hallo, ich bin Dennis. Ich habe 1997 mit der Segelfliegerei begonnen, inzwischen bin ich auf einmotorige Kolbenflugzeuge umgestiegen, machen sie einen doch flexibler in der Reisezielwahl und weniger wetterabhängig. Am helllichten Tag die Umgebung erkundschaften, oder nachts über den Lichtern der Großstädte schweben. Die Schönheit meines Hobbys möchte ich gerne mit Euch teilen. Ich würde mich freuen, Euch bald bei mir an Bord begrüßen zu dürfen 👨🏾‍✈️🛩️
Pilot reviews
Rundflug Lübeck und nördliches Umland

Es war ein schönes Erlebnis,Lübeck und seine Umgebung von oben kennenzulernen.Dennis ist ein erfahrener Pilot und wir haben einen netten Menschen kennengelernt,der uns ganz sicher durch die Lüfte gebracht hat. Wir haben sehr viel Neues erfahren können. Mach gerne so weiter.

Rundflug Lübeck und nördliches Umland

Wunderbares Erlebnis hoch über den Wolken! Mein Mann und ich hatten das Vergnügen, am Wochenende einen tollen Rundflug über Lübeck und das nördliches Umland zu erleben. Es war zweifellos eine unvergessliche Erfahrung, die uns noch lange in Erinnerung bleiben wird. Dennis, unser Pilot, war höchst professionell und freundlich. Wir haben uns sehr sicher bei ihm gefühlt. Er kannte das Gebiet, welches wir überflogen haben sehr gut und hat all unsere Fragen kompetent beantwortet. Die atemberaubende...

Rundflug Lübeck und nördliches Umland

Wir hatten so eine tolle Zeit und ein unvergessliches Erlebnis! Absolut empfehlenswert!

Rundflug Schleswig Holstein Lübeck-Kiel

Wir hatten heute am 20.05.2023 einen mega schönen Rundflug mit Dennis. Vorab hat alles mit der Buchung usw. reibungslos geklappt. Auf Mails mit meinen Fragen hat er sehr zügig reagiert. Auch am Lüecker Flughafen war alles gut organisiert. Dennis hat viel Interssantes über die Flugroute bzw. die Sehenswürdigkeiten erzählt. Für mich persönlich war das nicht mein letzter Rundflug!!! Herzlichen Dank Dennis für dieses tolle Erlebnis, dass ich mit meinem Vater genießen durfte. Dankeschön !!!

Rundflug Lübeck - Schloß Schwansee - Poel- Schweriner Schloß

Unser Flug mit Dennis war einfach wunderbar, er hat für uns alle unsere Wünsche erfüllt und wir konnten alles sehen, was wir uns vorgenommen haben. Dennis hat uns alles erklärt und viel über den Flughafen und die Landschaft erzählt. So einen Rundflug kann ich einfach nur jedem empfehlen, es ist wirklich ein Erlebnis!
Things to know
Total experience time
The total experience time is 1h 10m as it includes briefings and 1h 10m for flying.
Weather
Good weather conditions are required for this flight to take place. The pilot may need to postpone or cancel your booking.
Cancellation policy
You can cancel up to 24 hours before the flight date.
What to bring
Feel free to bring your camera and sunglasses onboard.
We've got you covered
All Wingly flights are automatically covered by our Allianz insurance for claims up to €1,000,000. This covers all passengers and their belongings.
Learn more about the insurance
Frequently asked questions