Christmas Sale 🎄
Save up to €100 with code XMAS.
Almost late for your Christmas shopping👇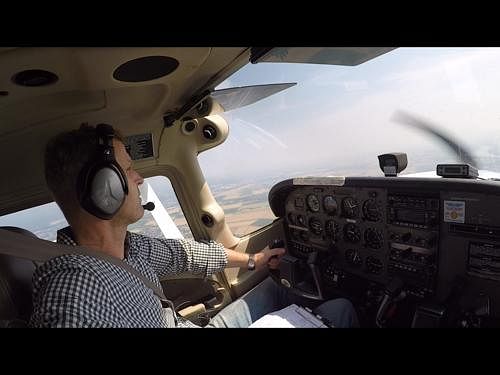 Sightseeing flight
You will fly from Bonn and come back. Enjoy the beautiful landscapes along the way.
View flight plan
Private pilot
A private individual flying in their own free time who contributes to the total price through cost sharing.
Description
Suchst du nach einer besonderen Geschenkidee oder möchtest du selber einmal deine Heimat aus der Luft sehen? Wie wärs mit einem Rundflug ganz nach deinen Vorstellungen? Nach dem Start auf dem Traditionsflugplatz Hangelar (Gemeinde St. Augustin) fliegen wir entlang des Rheins über Wesseling in Richtung Köln-City. Tolle Anblicke der Industriestandorte aus der Luft. Überflug Kölner Dom, Hauptbahnhof, Colonius, Lanxess Arena, DEVK, etc. Aber noch nicht genug: Wir fliegen weiter den Rhein runter b...
Flight plan
Sightseeing points

Kölner Dom, Köln, Deutschland
Altstadt, Düsseldorf, Deutschland
Düsseldorf Airport (DUS), Flughafenstraße, Düsseldorf, Deutschland
Aircraft
Verified by Wingly
Our team has thoroughly checked the pilots license and medical certificate.
Private pilot
A private individual flying in their own free time who contributes to the total price through cost sharing.
Flight Log
300 total flying hours • 30 flight hours in the last 12 months
Hallo, mein Name ist Martin - schön, dass du auf mein Profil schaust! Ich freue mich immer über interessierte Mitflieger, die Lust auf ein individuelles Flugerlebnis haben. Fliegen ist meine Leidenschaft, ob mit dem Motorflugzeug oder mit dem Gleitschirm in der Thermik! Als Kind habe ich davon geträumt, Pilot zu werden, heute bin ich es und teile meine Leidenschaft gerne mit anderen Menschen. Hier findest du einige Beispiele für tolle Rundflüge in der Region. Du hast eine andere Idee - s...
Pilot reviews
Rundflug: Kölner Dom und Bergisches Land

Wir hatten einen tollen Flug mit Martin! Und wurde ganz viel erklärt und es war eine super entspannte und angenehme Atmosphäre! Große Empfehlung!!! ☺️

Rundflug: Kölner Dom, Braunkohle und Phantasialand

Flug war mit allem drum und dran sehr gut. Pilot ebenfalls super und sehr sympathisch. Sehr zu empfehlen!

Die Nordsee à la carte - Tagesausflug z.B. nach Wangerooge

Wir hatten einen wunderbaren Flug. Es hat uns sehr gefallen und war informativ. Alles war perfekt. Die Absprachen war unkompliziert und felxibel. Immer wieder gerne.

Rundflug: Kölner Dom und Bergisches Land

Wir haben ein Flug übers Bergische Land gebucht, es war alles in allem ein toller Flug. Der Pilot Martin war echt super, er ist auf Wunsch über unser Zuhause geflogen und man hat sich bei ihm absolut Sicher gefühlt. Er wusste jede Frage zu beantworten die man als "Gast" aus der Luft hatte. Auf jeden Fall ein super Pilot, wer Interesse an einem Flug übers Bergische hat ist bei Ihm an der richtigen Adresse. Dazu noch eine Fantastische Aussicht über unsere Heimat - das Bergische Land, atemberaubend...

Rundflug: Kölner Dom und Bergisches Land

Der Flug war noch besser als erwartet. Flug über meine Heimatstadt und den Köln-Bonner Flughafen. Mit 2-facher Landung in Hangelar. Konnte auch kurz selbst das Steuer übernehmen und bei dem Einlagern in den Hangar behilflich sein. Martin als Pilot auf jeden Fall zu empfehlen.
Things to know
Total experience time
The total experience time is 1h 45m as it includes briefings and 1h 45m for flying.
Weather
Good weather conditions are required for this flight to take place. The pilot may need to postpone or cancel your booking.
Cancellation policy
You can cancel up to 24 hours before the flight date.
What to bring
Feel free to bring your camera and sunglasses onboard.
We've got you covered
All Wingly flights are automatically covered by our Allianz insurance for claims up to €1,000,000. This covers all passengers and their belongings.
Learn more about the insurance
Frequently asked questions