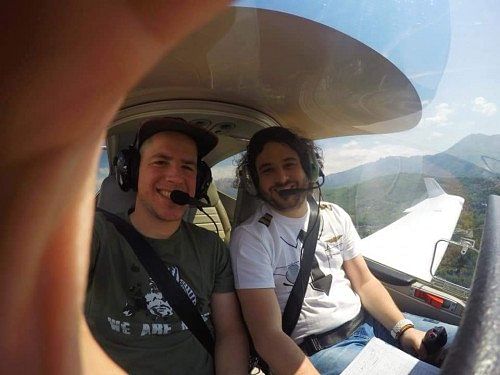 David
Registered since August 2015
Private pilot
A private individual flying in their own free time who contributes to the total price through cost sharing.
Flight Log
135 total flying hours • 15 flight hours in the last 12 months
Qualifications

Night Flight Qualification
About David
I'm David, 35 years old and based in Lugano, Switzerland. I love to fly and I would love to share my passion with you. I'm looking forward to fly with you! :)
Reviews
The two Lakes (Lugano, Como)

Great experience with a great pilot. Very friendly and kompetent. Thx u david

The three Lakes (Lugano, Maggiore and Como)

David hat uns knapp eine Stunde über die 3 Seen geflogen. Die Kommunikation vorher über WhatsApp hat super geklappt. Außer italienisch und englisch spricht er auch deutsch. Er hat uns viel Wissenswertes erzählt, so dass es ein sehr interessanten Flug wurde. Wir hatten immer das Gefühl, einen kompetenten Piloten zu haben. Der Flug war sehr ruhig und die Landung war butterweich. Wir haben ein sehr schönes Abschlussfoto von ihm bekommen. Wir würden jederzeit wieder einen Flug mit ihm absolvieren un...

The three Lakes (Lugano, Maggiore and Como)

Hi to all. Would highly recommend David as the best pilot. He helped me realize the dream of my brother and his wife. We were very pleased with both the flight and the friendliness of the pilot. He made this flight the best possible: he chose the best date and did everything to make it safe and comfortable. If you are looking for new sensations - you should come to David. With best wishes, Yulia

The three Lakes (Lugano, Maggiore and Como)

Beautiful flight over the three lakes! Very good organisation! Thanks a lot David.

The three Lakes + The beauties of Ticino

It is with a great pleasure that we (my wife & I) ve encountered David for a new flight he conceived specially for us upon an idea to merge two of his existant flights. First and foremost, the contact with David was always courteous, sincere, clear and efficient from the start and during all the time preceeding our flight. David is a professional who's concerns is safety first and above all. He answered all our questions and provided us with breefings and forecasts up to the very early morning...