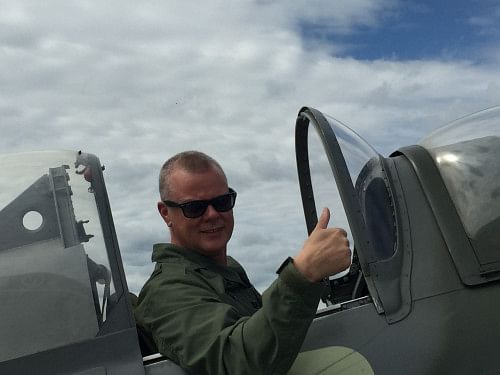 Edward
Registered since June 2017
Private pilot
A private individual flying in their own free time who contributes to the total price through cost sharing.
Flight Log
815 total flying hours • 100 flight hours in the last 12 months
Qualifications

Instrument Rating
Night Flight Qualification
Aerobatics Qualification
Flight Instructor Rating
About Edward
I have been flying as a PPL since 2008, I have a SEP/MEP /IR & IMC with Night Rating. I am also a CRI. I have flown in Europe / US/ Israel inc several extensive cross country trips internationally.
Reviews
Day Trip to Alderney, Fantastic little Channel Island

We finally got to fly 2 years later, after trying multiple times with different pilots and then the Pandemic happened. We flew with Eddie he didn't disappoint, he was super knowledgeable and kept showing us points as we flew past, some really great views over the coast, Portsmouth, Isle of Wight, and of course the beautiful channel islands. He made us quite comfortable right from the beginning of the flight and did all his checks and we flew with ease. Once we were in Alderney we had over 3 hour...

IOW and flight along the South Coast

Went up again with Eddie at the weekend, and again he didn't disappoint, great views over the south coast, Portsmouth, Isle of Wight, and very interesting listening to Eddie as he knows lots of points of interest, I'll definitely be flying again with Eddie some time soon.

Local Berkshire Flight from Marlow (28/07)

Eddie was a fantastic pilot, he made me feel very safe and comfortable, and he was very knowledgeable, pointing out lots of points of interest, he also made sure the plane was positioned so that I could capture the photo's I wanted to take, It was a very smooth and memorable flight, Cheers Eddie !! hope to flight with you again one day.

Day Trip to LeTouquet for Lunch and Shopping

We had an amazing experience flying with Eddie. They whole day from start to finish will be something we'll never forget. Eddie was safety conscious, confident in his abilities and very understanding of non-commercial flying novices - he was full of tips, advice and knowledge to help ease any nerves. Once in Le Touquet Eddie even helped us walking into town (after getting slightly lost)! We will definitely be telling all our friends about this trip and hope to fly with Eddie in the near future...

Day Trip to LeTouquet for Lunch and Shopping

Fantastic flight experience. Amazing air-craft. We flew to Le Touquet (a very nice beach town not too far from London!) and back with Eddie this one Saturday. My wife (the trip was meant to be a surprise present for her) was thoroughly impressed and enjoyed the experience very much. Eddie carefully explained how the flight work and what we need to do and need not do during the flight. He carried out all safety checks and procedure literally to the book (you'll see the book :)) Eddie's very exper...