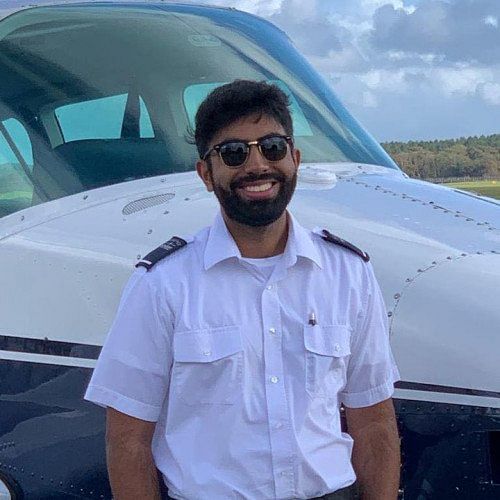 Rajdeep
Registered since March 2022
Private pilot
A private individual flying in their own free time who contributes to the total price through cost sharing.
Flight Log
300 total flying hours • 100 flight hours in the last 12 months
Qualifications

Instrument Rating
Night Flight Qualification
About Rajdeep
Hi I'm Raj! I completed my airline transport pilots license a few years back! Which means I benefit with having a night rating and instrument rating, which makes travelling in a wider range of conditions easier :)! I absolutely love flying and I believe it is the best way to explore the beautiful world we live in. I am constantly looking to go on new adventures, to new places, meet new people and have fun whilst doing so! I am based out of Blackbushe Airport, which makes it extremely easy to fly to locations within the UK and also abroad! If you have any specific requests please don't hesitate to get in touch and Ican see what I can do to help you! PS - Do message me before booking to avoid disappointment. I am very flexible with dates so if you prefer other dates or times do message me!
Reviews
Navigating the Outskirts of London (6seater)

Very nice guy. Very relaxed flight and felt very safe with all the family on board. A real pleasureable experience with absolutely no complaints. Wishing you all the best Rajdeep.

Navigating the Outskirts of London (6seater)

Rajdeep was absolutely great as a pilot. His energy was so good and passion for flying really came through. Highly recommend flying with him. All the best.

Sightseeing flight: Navigating the Outskirts of London

Our group had a fantastic trip with Raj on a sightseeing trip of London. As other reviews have stated, flying with Raj was like flying with a friend and took care of us from arriving at the airport right through to walking us back to the terminal. Raj is clearly passionate about flying and talked us through the various procedures, alongside pointing out land mark and answering any questions we had about the flight. Would highly recommend and we would definitely fly with Raj again!

NIGHT/SUNSET flight: Navigating the Outskirts of London

Raj was very friendly and enthusiastic. He made us feel comfortable and informed us of the sightseeing locations. He checked in with us often to see if we are ok. Would highly recommend a trip with Raj.

A lap around the Isle of Wight from Blackbushe by plane

What an amazing Pilot, it was being in a car and chauffeured by a friend. Truly brilliant day, highly recommend Rajdeep. Hope to see him again soon. Thank you