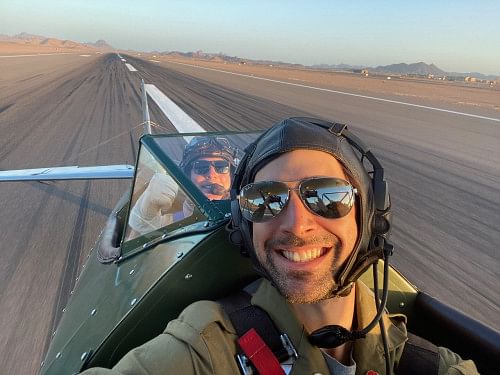 Alex
Registered since May 2020
Commercial operator
The operator is a professional partner operating commercial flights with certified pilots as part of our Wingly Pro offering.
About Alex
Hi, I'm Alex and we operate The Tiger Club founded in 1957 with the aim of encouraging all aspects of sport flying. We are keen to teach the different kinds of sport flying, including aerobatics, formation flying, air racing and display flying. We welcome any pilot or aviation enthusiast who wishes to fly any of our aircraft, whether as a memorable one-off experience or as a series of lessons to develop new skills and airmanship. We offer pilots the chance to fly what are nowadays unusual types of aircraft and to perfect the skills required to operate these special aeroplanes. The Tiger Club is run by its members, and owned by a group of members. It is a friendly place, largely staffed by volunteers, and we encourage everyone to get involved. The Tiger Club is based at Damyns Hall Aerodrome, Essex, only a 5-minute taxi ride from Upminster Underground & Train station, with direct C2C trains every 10 minutes to London Fenchurch Street (journey times of only 25 minutes) and District Line Underground trains every 5 minutes to central London making it London's most accessible aerodrome. There is ample car parking space, and during the summer months, the aerodrome cafe welcomes you to enjoy their large garden area which has a great view of our runway.
Reviews
Delve into the past on a 20 Minute Vintage Biplane Flight

What a simply amazing experience! I thoroughly enjoyed all aspects of my flight. Alex was very reassuring and spent time introducing me to the aircraft and all of the instruments - he was very professional throughout. I knew exactly what was going to happen at all times and the loop the loop and barrel role was the 'icing on the cake' for me! There was no pressure to do this though and Alex was very keen for me to have the experience which I wanted. My husband who went up after me wholeheartedly...

Delve into the past on a 20 Minute Vintage Biplane Flight

Alex was very professional, outlining the aircraft, it's features and the flight itself. From booking to post flight, communication was on point. The flight itself was a very memorable moment and a knee in a lifetime opportunity for me personally. Highly recommend :)

Delve into the past on a 30 Minute Vintage Biplane Flight

Alex was chatty, relaxed, informative and intelligent. An ideal host and inspiring pilot. Lucky to have him

Delve into the past on a 20 Minute Vintage Biplane Flight

Absolute class! I booked an aerobatic experience with Alex for my wife's birthday. The original date we had booked wasn't suitable weather, but Alex kept us in the loop leading up to the booking keeping an eye on the weather in the hope it would clear. We were forced to re-schedule, and fortunately, we had great weather for the new date. Upon arrival, Alex welcomed us and went through everything clearly and concisely. My wife thoroughly enjoyed the experience and is keen to go again!

The Ultimate Aerobatic Experience!

I had an aerobatic experience with Alex In a1939 Tiger Moth. He was friendly and reassuring as on seeing the plane I was about to fly in looked very fragile and I did not think we would be able to perform many manoeuvres in it. Alex explained all about thre aircraft safety procedures and what we would be doing once airborne. The flight itself was thrilling I was amazed at both the skill of Alex and that such an old plane was so manoeuvre able after each stunt Alex asked if I was OK. I woul...