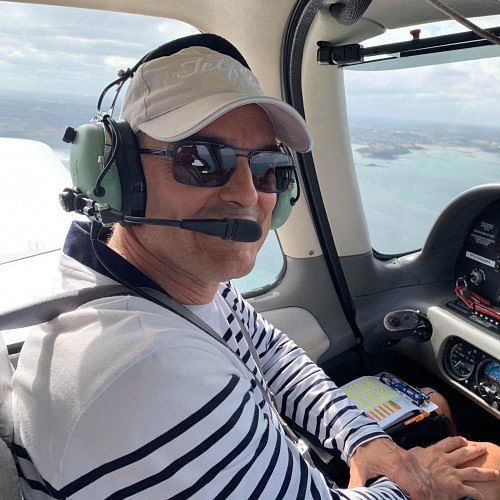 Pierre
Registered since October 2015
Private pilot
A private individual flying in their own free time who contributes to the total price through cost sharing.
Flight Log
1000 total flying hours • 50 flight hours in the last 12 months
Qualifications

Seaplane Rating
About Pierre
Je suis Pilote depuis plus de 20 ans et membre actif au sein de l'aéro-club Air Europ Club, basé sur l'aéroport de Toussus Le Noble (78). J'organise bénévolement des voyages en France et à l'étranger pour les membres de notre aéro-club. Voler au départ de Toussus Le Noble est idéal pour partir visiter les quatre coins de la France. La passion ne vaut que si elle est partagée ! Pourquoi pas avec vous ?
Reviews
Aéro-Rando à Deauville

Encore merci, Pierre nous a fait passer un journée inoubliable. En plus de ses compétences de pilote, il est très sympathique et relationnel. Il nous a transmis sa passion pour l'aviation combinée avec une super randonnée. Nous recommandons vivement !

Balade aérienne autour de Paris

Booked a flight to celebrate a friend's birthday and it was a great experience! Very professional and friendly pilot who talked us through the entire process from pre-flight to the actual flight itself. Throughly enjoyed the experience and would recommend it to anyone who is interested in trying something like this.

Tour intégral de Paris en avion

Vraiment une super expérience ! Un pilote au top, très compétent et professionnel ce qui nous a permis de passer un très bon moment ! Je recommande sans problème

Tour intégral de Paris en avion

C'était vraiment très sympa, une première pour nous. Le vol a duré deux heures, on a vu plein de belles choses, de beaux paysages. Avec un pilote très agréable

Aéro-Rando à Deauville

Très bon vol en compagnie de Pierre. Nous recommadons ce vol :)