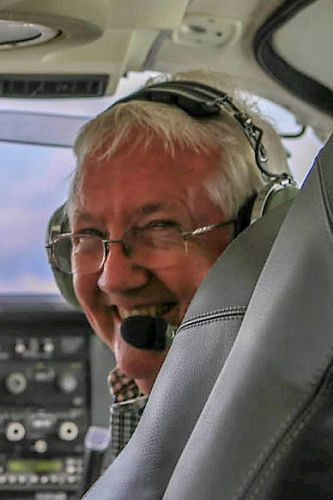 Nick
Registered since July 2019
Private pilot
A private individual flying in their own free time who contributes to the total price through cost sharing.
Flight Log
462 total flying hours • 50 flight hours in the last 12 months
About Nick
I have had my private pilots licence for over thirty years but have only been able to make good use of it since taking early retirement. I fly purely for fun and love to share the thrill of flight with others. If possible I only fly in good weather to make the most of the experience. There are many places to see and airfields to fly to within an hour of Coventry Airport. A fun trip might be, say, a 30 min flight to another airfield, land for a coffee and cake (or bacon sandwich!) and return…maybe including a flight over your house (if airspace allows). Alternatively lots of longer trips are possible. Don't forget to bring your camera/phone! I am currently flying with Coventry Aero Club and best availability is on Sundays and Mondays. Let me know what you would like to do or contact me for ideas through Wingly. IMPORTANT: Please message me before making a booking to check availability of the aircraft etc. After a booking has been confirmed you will, of course, be fully briefed before the flight, and kept up-to-date with the weather.
Reviews
One hour Air Experience Flight from Coventry

Fantastic and highly recommended! Nick's communication before our flight was faultless, right down to seamlessly rebooking when the weather let us down! Our flight today was perfect, Nick had discussed and arranged a great flight plan and a pass over our house on the return leg. Nick is a confident pilot and his experience shows. He talked us though every step of the pre flight process and was a wealth of knowledge during our flight. He was great with our 10 year old daughter (this was her first...

One hour Air Experience Flight from Coventry

We really enjoyed our trip with Nick - he was knowledgable and engaging, and you could see that he truly enjoys flying! Was definitely a really fun experience, with lovely views!

One hour Air Experience Flight from Coventry

Nick gave us a great visit from filling in the forms to information during the flight, plane was in good condition and whole experience was value for money, my granddaughter also really enjoyed the flight. Would definitely recommend this experience. Thanks Nick

One hour Air Experience Flight from Coventry

An absolutely amazing experience. Nick was reassuring and friendly and a great pilot.

One hour Air Experience Flight from Coventry

Nick is a great pilot aswell as a friendly guy. Went on a 1 hr round trip and thoroughly enjoyed it . Nick was a very informative and knowledgeable navigator and put us at ease with all the safety info.We were a bit apprehensive initially as this was our first flight but soon overcome by the sheer beauty of our Country seen from above. If you were looking to treat family or friends to a real treat i can thoroughly recommend this pilot and the flight for a memorable experience. Many thanks to N...