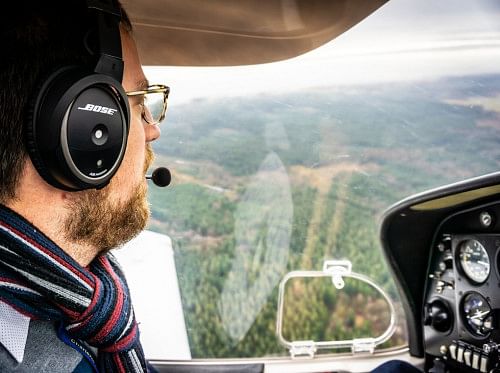 Olivier
Registered since May 2019
Private pilot
A private individual flying in their own free time who contributes to the total price through cost sharing.
Flight Log
250 total flying hours • 60 flight hours in the last 12 months
About Olivier
---English version below--- Je suis un pilote PPL passionné et dynamique, et qui adore partager sa passion avec ses passagers! :) Je propose plusieurs types de vols, du baptême d'1h en Wallonie, au week-end au Touquet, en Champagne ou ailleurs. N'hésitez pas à jeter un oeil à mes vols "standards" définis ci-dessous, ou à me contacter si vous ne trouvez pas ce que vous cherchez. Si vous volez avec moi (sur un vol standard ou non), nous prendrons le temps de définir ensemble un itinéraire à la carte, en fonction de vos envies et de ce que vous souhaitez survoler. Une expérience inoubliable, vous verrez! :) N'hésitez pas à me contacter si vous avez des questions. Je parle Anglais, Français et (un peu) Néerlandais. ------ I am a passionate PPL pilot, and I love sharing that passion with my passengers. I'm offering many different types of flight, from the 1-hour first experience to the full week-end in Le Touquet, in the Champagne area or anywhere else. Feel free to browse through my "standard" flights right below, and don't hesitate to reach out in case you are not finding what you are looking for. If you decide to come and fly with me, regarldess of the type of flight that you are going for, we'll take the time to define the itinerary together, so that you get to see from above the places that you know from the ground. Quite the unforgettable experience, guaranteed! :) Feel free to reach out, should you have any questions. I do speak English, French and a tad of Dutch.
Reviews
De Charleroi à Spa, par les Ardennes / From Charleroi to Spa

Wow! What a great time- we thoroughly enjoyed our flight. Olivier had a perfect flight plan prepared with a good mix of technical aspects and sightseeing. I would highly recommend it to others.

De Charleroi à Anvers, Flandres / From Charleroi to Flanders

Olivier est un pilote sympa et de toute évidence très compétent. Survol ce dimanche des provinces de Hainaut, Brabant et Namur, soit une heure et trente minutes de pur bonheur ! Merci Olivier. Fly safe !

1h pour découvrir la Belgique / 1 hour to discover Belgium

Voilà nous voulions remercier notre pilote Olivier qui a été très sympathique et très compétent les enfants ont adoré faire ce beau tour avec en plus beaucoup d'explications données par notre pilote Olivier je le recommande vivement et d'ailleurs nous comptons bien le revoir pour une prochaine aventure un très beau souvenir pour tout le monde merci beaucoup Olivier et à très bientôt

1h pour découvrir la Belgique / 1 hour to discover Belgium

Un vol 5 étoiles ! Olivier est très à l'écoute (plan de vol, confort, etc), pédagogue et excellent guide pour découvrir notre propre région avec un autre regard. Notre vol était le baptême de l'air de notre fille de 5 ans. Ravie ! (et nos proches aussi car nous les avons survolés). Elle fut si bien bercée qu'elle piquât du nez au moment de l'approche (en cas de traduction : elle s'est endormie, tant elle était bien). Le final était inoubliable : un incroyable coucher de soleil en bout de piste...

1h pour découvrir la Belgique / 1 hour to discover Belgium

Nous avons passé un super moment ! Le mélange entre toutes les explications et les vues à couper le souffle était très chouette. À recommander. Un grand merci !