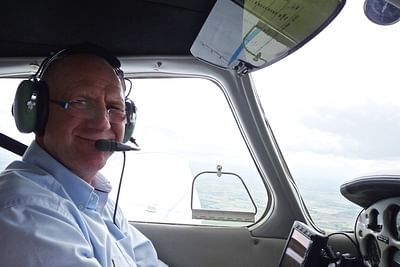 Willie
Registered since September 2016
Private pilot
A private individual flying in their own free time who contributes to the total price through cost sharing.
Flight Log
1140 total flying hours • 120 flight hours in the last 12 months
Qualifications

Night Flight Qualification
Instrument Rating
About Willie
I have had a passion for flying from a young age, so as soon as I had saved enough to embark on my training to be a pilot I started. With now over thirty years experience of flying light aircraft, your flight is guaranteed to be a pleasurable experience. I also have been a racing driver since 1974, and own an electrical contracting Company. I look forward to having you onboard.
Reviews
Short hop to Sandown for lunch - 2 Seats

Thank you for making Shirley s birthday something special Willie. We thoroughly enjoyed the flight to and from Isle of Wight. Hope to see you again in the future . Mark

Short hop to Sandown for lunch - 3 Seats

Booked an excursion return flight from Turweston to Sandown (IoW) with Willie as a birthday present for my girlfriend. The whole process was smooth and seamless, and Willie was a delight to fly with. He took us through the pre-flight checks, and his enthusiasm for flying was infectious, we loved learning about how to fly, communicate with ATC etc! He even let my girlfriend briefly take control of the aircraft, which was an amazing and unforgettable experience for her! We'd highly recommend flyi...

Sightseeing flight around the local area (Turweston - 3 pax)

Very rarely am I compelled to right a review of my experiences, but in this case I had to make an exception. I acquired a flight with Magnificent Willie for my mother and holy moly she had an absolute blast. She was treated so well and has not stopped beaming after being able to see her local area from the sky. Absolutely first class and double bravo chap.

Day trip to the Isles of Scilly, take off from Turweston

Great day out flying with Willie. Very experienced and friendly pilot who gives you a great running commentary on your journey about the aircraft, the route and landmarks around you. Lovely plane with some very impressive modern auto pilot navigation kit. I would highly recommend flying with Willie!

Day trip to Newquay (2h30)

We'll what a fabulous day out In padstow we had with Willie.A mixed weather forecast was accurate,and this did not deter Willie from making as promised a sublime ILS instrument approach,It's path however was completely changed by Newquay,but was interpreted by Willie instantly 👌✈️ once landed we jumped straight in our pre booked cab,and straight down to Rich steins seafood restaurant In padstow, the food was. Irresistible By the time we had boarded for the return leg the sun was breaking cl...