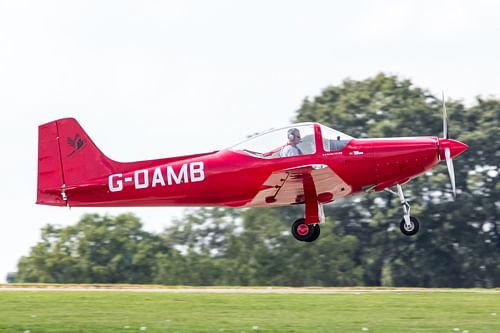 Simon
Registered since July 2018
Private pilot
A private individual flying in their own free time who contributes to the total price through cost sharing.
Flight Log
395 total flying hours • 54 flight hours in the last 12 months
Qualifications

Night Flight Qualification
Aerobatics Qualification
About Simon
I have been flying for approx 25 years, learnt to fly in Australia, then continued my flying here in the UK for the last 18 years.
Reviews
Flight over Edinburgh City, Arthur's Seat

Absolutely recommend. Best experience I've had and Simon is a very good pilot and accommodating. Even before I got to the plane I was having a good time.

Tour Scottish Highlands

A wonderful flight with Simon from Fife to the beautiful airfield of Glenforsa on the Island of Mull. Simon was great company and his Falco is a classic piece of 1950s Italian design. His experience and skill in dealing with the sometimes challenging conditions in the area helped to make the the flight an enjoyable and relaxing experience. Highly recommended!

Excursion Flight Land Away to Glenrothes

What a great day. While our initial plan was blighted by weather, Simon quickly proposed a new route which was just as interesting. We flew to Fort William via an overhead at Aberfeldy where one of my sons lives. Cloud conditions were challenging but Simon found a way through and we had some magnificent views of the snow capped highlands. Then on to Oban and our return to Glenrothes. Simon was happy to explain the instrumentation in the aircraft despite some very busy RT and kept me informed abo...

Excursion Flight Land Away to Glenrothes

Another fantastic experience with Simon. The planned destination was changed due to weather and we decided to go to Carlisle instead. As a student pilot myself the flight gave me a good insight to the R/T work and flight planning involved. Simon has a very interesting background, is a gent and very safe to fly with. He's very accommodating and will attempt to tailor a flight to most requests. I'm already looking forward to flying with him again.

Private flight Fife-Berwick-Noram

Fantastic experience flying with Simon in an amazing aircraft. He accommodated all my requests and I also learned about his father's involvement in the Dam Busters mission 75 years ago. This is commemorated with his name on the fuselage of the plane and in the registration. I hope to fly with him again in the future.