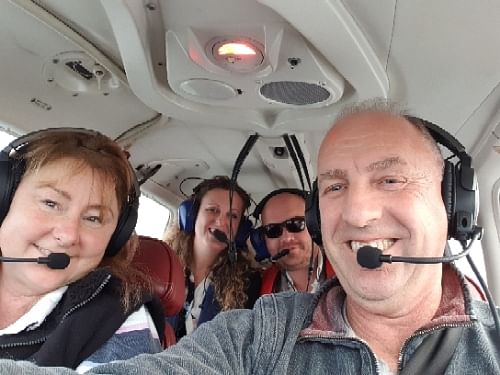 Mike
Registered since May 2018
Private pilot
A private individual flying in their own free time who contributes to the total price through cost sharing.
Flight Log
1200 total flying hours • 120 flight hours in the last 12 months
Qualifications

Instrument Rating
Night Flight Qualification
Flight Instructor Rating
About Mike
Hi, I'm a 60 year old Private Pilot with a passion for flying. Though flying is my hobby, I endeavour to approach it in a professional manner. In my 12 years of flying, I've clocked up over 1200 hours in 14 countries, and obtained Instrument and Class Rating Instructor ratings along the way. I now own shares in two Light Aircraft, pictured above. I work as a Technical Consultant to the Oil Industry, which takes me all over the World, often at short notice. As a consequence, I may occasionally have to cancel flights at short notice for work reasons in addition to the typical weather and/or aircraft tech issues that can arise. So if you fully understand and accept that flights may be cancelled (and monies refunded of course!), then I'll be happy to have you along to share the experience :-)
Reviews
Welsh Mountains and Castles

What a wonderful experience! Mike was superb, so friendly and knowledgable, and made us all feel so welcome and at ease. I'd highly recommend a trip with Mike

Day trip to the Isle of Wight, from Cardiff

Excellent, what a true professional and a pleasure to fly with. Can't wait to book another flight.

Day trip to the Isle of Wight, from Cardiff

Fantastic experience from start to finish. Mike was helpful in terms of pointing out places we were flying over but also giving us some information about places too. He was personable, friendly and put us at ease immediately as we hadn't flown in this type of aircraft before. We had a fabulous day and would recommend Mike to anybody looking to fly - you won't be disappointed! A tremendous trip and we will definitely be doing this again. Kev and Karen.

Excursion flight from Cardiff to Caernarfon

6 stars would be more appropriate. An amazing tour, but the icing on the cake is that Mike goes the extra mile. He makes it a guided tour, anecdotes, humor, and all so relaxed that you really can enjoy the flight to the max. You can sense that he loves to be up in the air, and that carries over during the flight . Already thinking about a next trip with him! Can't be beaten !

Day trip to the Scillies

Mike was absolutely brilliant! The family had an incredible time and described the day as a once in a lifetime experience! Thanks so much!