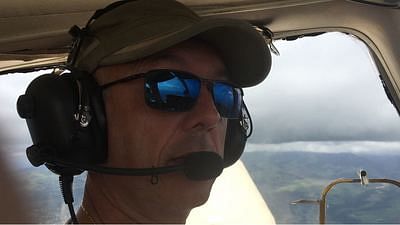 Sacha
Registered since March 2018
Private pilot
A private individual flying in their own free time who contributes to the total price through cost sharing.
Flight Log
800 total flying hours • 150 flight hours in the last 12 months
Qualifications

Night Flight Qualification
Flight Instructor Rating
About Sacha
"Jeune" pilote depuis bientôt 8 ans en Martinique, j'ai souvent des places de libres pour mes voyages inter îles. Passionné par l'aviation, avec un terrain de jeu splendide, je suis heureux de pouvoir vous faire découvrir le ciel des Antilles ! Je fais également des tours de Martinique, pour ne pas perdre la main, assez régulièrement. Suivez les annonces ! J'ai mon FCL 055 (anglais aéro) donc aucun soucis pour les vols vers les îles anglophones voisines à la journée ou pour passer un petit moment en vacances...
Reviews
La Martinique d'en haut !

Un super moment au coucher de soleil avec des explications sur l'aeronotique et sur la Martinique. Notre belle île vue d'en haut ça change toutes les perspectives et c'est magnifique. Merci beaucoup Sacha on reviendra 😁Julien et Jerem

La Martinique d'en haut !

Super vol , un grand merci pour cette belle découverte aérienne. Pilote super sympa . Un grand merci Paul et Mauricette

Le grand tour de l'île de la Martinique !

Le vol avec Sacha s'est très bien passé, c'était une superbe expérience. Sacha est très sympathique, courtois, sait mettre en confiance ses co-voyageurs. Il parle très bien l'anglais, nous reviendrons avec plaisir une prochaine fois pour un autre vol avec Sacha.

La Martinique d'en haut !

Superbe tour en avion avec Sacha, à l'écoute de nos demandes, nous explique le déroulement du vol et les infos concernant l'avion. Très bon moment passé ! Je recommande ! A bientôt.

Petit vol découverte de la Martinique

Super vol en compagnie de Sacha, professionnel et à l'écoute ! Merci encore et à très bientôt !!!!