Christmas Sale 🎄
Save up to €30 with code XMAS.
Almost late for your Christmas shopping👇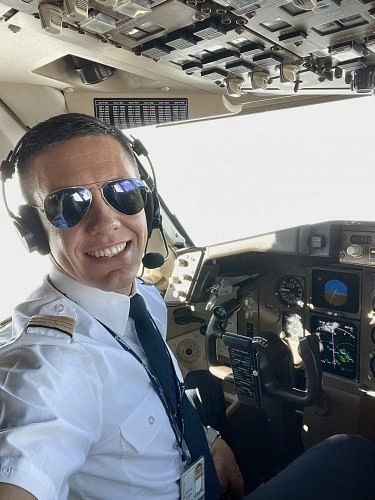 Sightseeing flight
You will fly from Tannheim and come back. Enjoy the beautiful landscapes along the way.
View flight plan
Private pilot
A private individual flying in their own free time who contributes to the total price through cost sharing.
Description
Flug im Klassiker der Luftfahrt: der legendären Piper Pa18 SuperCub. Hier steht das pure Flugerlebnis über wunderschöner Landschaft im Mittelpunkt der Erlebnisses. Erleben sie dieses wunderschöne und mit viel leidenschaft gepflegte Spornrad-Flugzeug im Flug vom Flugplatz Tannheim aus.
Flight plan
Sightseeing points

Allgäu
Aircraft
Verified by Wingly
Our team has thoroughly checked the pilots license and medical certificate.
Private pilot
A private individual flying in their own free time who contributes to the total price through cost sharing.
Flight Log
6500 total flying hours • 459 flight hours in the last 12 months
Ich bin der Andy, bin 38 Jahre alt und wohne im wunderschönen Waldenbuch in direkter Nähe zum Flughafen Stuttgart. Hauptberuflich fliege ich bei einer großen und der ältesten Ferienfluggesellschaft der Welt auf Airbus A330neo und bis Januar 2023 auf Boeing 757 und Boeing 767 an die schönsten Orte auf dieser Erde. Bevor ich 2015 zu dieser Airline wechselte, flog ich 6 Jahre lang vom Flughafen Stuttgart aus Privat- und Businessjets beim renommierten SFD - Stuttgarter Flugdienst. Nebst dem beruflic...
Pilot reviews
Schnupperflug vom Flughafen Stuttgart

Die Kommunikation mit dem Piloten sowie die verbrachte Zeit mit ihm war super 😊 Er ist auf alle Fragen eingegangen und hat alles super erklärt. Würde ich jeder Zeit wieder buchen 😊 auf jeden Fall weiter zu empfehlen.

Schnupperflug vom Flughafen Stuttgart

Wir hatten einen rundum gelungenen Flug mit Andy und können ihn als Piloten für so ein besonderes Erlebnis hundertprozentig weiterempfehlen! Die Absprachen im Vorfeld waren unkompliziert und angenehm, auch wenn wir ein bisschen Schwierigkeiten hatten einen passenden Termin zu finden, an dem die Durchführung dann auch geklappt hat. Es hat super viel Spaß gemacht das Flugzeug kennenzulernen und dann über Stuttgart und bis zur Burg Hohenzollern zu fliegen. Andy hat immer viel erklärt und ist auf un...

Flug zur Burg Hohenzollern

Mit Andy zu fliegen ist ein Erlebnis, da man merkt dass Fliegen seine Berufung ist. Da er zudem auch Verkehrspilot ist und auch viel mit den kleinen Fliegern fliegt, spürt man die große Erfahrung und Sicherheit. Zudem erklärt er umfassend die Maschine und den Ablauf und nimmt so auch Fluganfänger bzw. ängstlichen Menschen die Flugangst. Sie können den Flug genießen und sind noch lange danach restlos begeistert.... Also volle Punktzahl für Andy !

Schlösser und Burgen der Region Stuttgart

Sehr netter/flexibler Pilot Toller Flug Werden wir weiter empfehlen

Flug zur Burg Hohenzollern

Nicht nur der Flug hat die Erwartungen übertroffen - Andreas nimmt sich zudem sehr viel Zeit, um einem auch tiefere Einblicke in das Fliegerleben geben zu können und auf Fragen und Wünsche einzugehen. Ein extrem sympathischer Mensch mit sehr viel Fachwissen und der Fähigkeit, sein Wissen simpel und verständlich weiterzutragen. Kann einen Flug mit ihm nur weiter empfehlen - wirklich Klasse!
Things to know
Total experience time
The total experience time is 2h as it includes briefings and 1h for flying.
Weather
Good weather conditions are required for this flight to take place. The pilot may need to postpone or cancel your booking.
Cancellation policy
You can cancel up to 24 hours before the flight date.
What to bring
Feel free to bring your camera and sunglasses onboard.
We've got you covered
All Wingly flights are automatically covered by our Allianz insurance for claims up to €1,000,000. This covers all passengers and their belongings.
Learn more about the insurance
Frequently asked questions