Black Friday
Save up to CHF 120 with code BF2023. Offer extended until 30/11.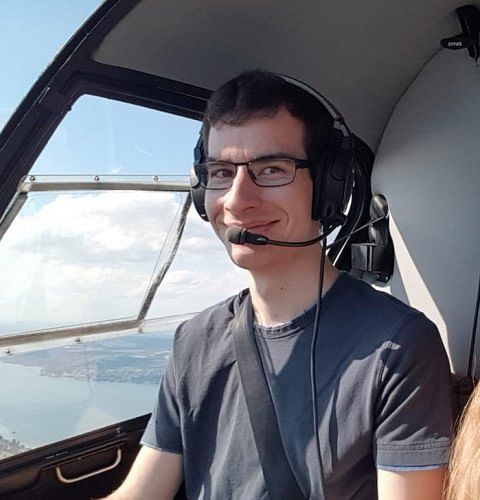 Sightseeing flight
You will fly from St. Gallen and come back. Enjoy the beautiful landscapes along the way.
View flight plan
Private pilot
A private individual flying in their own free time who contributes to the total price through cost sharing.
Description
Route: St. Gallen-Altenrhein Flughafen ➡️ Rorschach ➡️ St. Gallen ➡️ Appenzell ➡️ Altstätten ➡️ Widnau ➡️ Lustenau ➡️ St. Margrethen ➡️ St. Gallen-Altenrhein Flughafen Flugdauer ca. 30 Minuten Erlebe die Ostschweiz! Die Flugroute führt über die Rorschacher Bucht in Richtung St. Gallen. Wir steigen auf über 4000 Fuß über dem Meeresspiegel und lassen die Stadt unter uns. Zu unserer Linken liegt der Kanton Appenzell. Wir überqueren jenen auf direktem Wege und folgen dem Gelände ins Rheintal. Recht...
Flight plan
Sightseeing points

Rorschach, Schweiz
St. Gallen, Schweiz
Altstätten, Schweiz
Aircraft
Verified by Wingly
Our team has thoroughly checked the pilots license and medical certificate.
Private pilot
A private individual flying in their own free time who contributes to the total price through cost sharing.
Flight Log
300 total flying hours • 60 flight hours in the last 12 months
Hallo 😀 Mein Name ist Kilian, ich bin 25 Jahre alt, Privatpilot seit 2019 und mit der Luftfahrt seit meiner Kindheit verbunden. Bedingt durch die SAR Hubschrauber der Bundeswehr und deren niedrigen Überflüge, die ich seit klein auf erleben konnte, wurde ich früh vom "Luftfahrtvirus" infiziert. 2018 begann dann meine Pilotenausbildung am Rande des Schwarzwaldes, in Donaueschingen. Anschließend bekam ich in dieser Flugschule eine Stelle als Office Manager und betreute drei Jahre lang den Flugbetr...
Pilot reviews
Standard Alpstein Rundflug

11. August 2023, vormittags: Heli-Rundflug Säntis-Alpstein-Bodensee🤩 Wir (Ende 60) hatten einen traumhaft schönen Flug bei perfektem Wetter und mit Kilian (25) einen sehr souveränen, kompetenten, aufgeschlossenen und sehr umsichtigen Piloten. 👍Absolute Weiterempfehlung, wir kommen gerne wieder.

Säntis Rundflug

Ein toller Rundflug mit dem Helikopter. Kilian war sehr professionell und ein klasse Pilot. Er hat Fachwissen und die Gespräche während dem Flug waren sehr angenehm und interessant. Auch nach dem Flug hat er sich noch für mich Zeit genommen und alle meine Fragen beantwortet. Ein rundum gelungenes Erlebnis.
Things to know
Total experience time
The total experience time is 1h as it includes briefings and 30m for flying.
Weather
Good weather conditions are required for this flight to take place. The pilot may need to postpone or cancel your booking.
Cancellation policy
You can cancel up to 24 hours before the flight date.
What to bring
Feel free to bring your camera and sunglasses onboard.
We've got you covered
All Wingly flights are automatically covered by our Allianz insurance for claims up to €1,000,000. This covers all passengers and their belongings.
Learn more about the insurance
Frequently asked questions