Christmas Sale 🎄
Save up to €50 with code XMAS.
Almost late for your Christmas shopping👇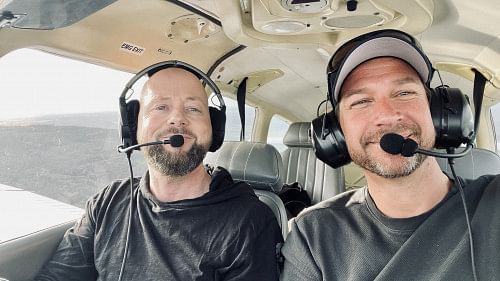 Sightseeing flight
You will fly from Mainz and come back. Enjoy the beautiful landscapes along the way.
View flight plan
Private pilot
A private individual flying in their own free time who contributes to the total price through cost sharing.
Description
Wir bieten Rundflüge an ab 30 Minuten bis "nach Vereinbarung". Je nach belieben lassen sich von Mainz aus zum Beispiel in 60 Minuten sehr viele und schöne Gebiete in einem kurzen Zeitraum anfliegen. Sei es entlang des Rheins zur Loreley und weiter bis Koblenz, in 75 Minuten wäre sogar noch eine Besichtigung des Nürburgring möglich. Es könnte auch entlang des Taunus in Richtung der Rhein-Main Metropole Frankfurt gehen oder entlang der Weinstraße an Weinheim und Heppenheim vorbei bis Heidelberg. V...
Flight plan
Sightseeing points

Loreley, Sankt Goarshausen, Deutschland
Deutsches Eck, Konrad-Adenauer-Ufer, Koblenz, Deutschland
Frankfurt am Main, Deutschland
Aircraft
Verified by Wingly
Our team has thoroughly checked the pilots license and medical certificate.
Private pilot
A private individual flying in their own free time who contributes to the total price through cost sharing.
Flight Log
12000 total flying hours • 50 flight hours in the last 12 months
Wir sind Denis und Michael, zwei Piloten aus Passion mit 20 jähriger Flugerfahrung in der Verkehrsfliegerei und mit Leidenschaft in der Motorfliegerei tätig. Gerne bieten wir Rundflüge zum Selbstkostenpreis aus Mainz Finthen an und bringen euch die Welt des Fliegens und die tolle Umgebung des Rhein Main Gebiet näher.
Pilot reviews
30min Schnupperflug Rheingau oder Loreley

Wir haben das große Los mit unerem Piloten gezogen. Er hat uns sehr ausführlich über die wichtigsten Punkte vor dem Flug informiert. Auch während des Fluges gab es viele Informationen. Uns wurden von oben die Sehenswürdigkeiten entlang des Rheins sehr ausführlich erklärt. Wir können Michael nur weiterempfehlen.

Rundflug ab Mainz in das schöne Rheingebiet

Der Flug mit Denis war wirklich ein besonderes schönes Ereignis. Obwohl ein Flughafenfest war lotste uns Denis souverän durch das Getümmel, fand immer Zeit für Erklärungen und Hinweise auf Sehenswürdigkeiten und setzte unsere Flugwünsche sehr gut um. Das Flugwetter war auch perfekt. Zu unserem Glück hatte Denis einen anderen Termin rechtzeitig wegen schlechten Wetters abgesagt. Bis hin zur perfekten Landung ein wirklich tolles Erlebnis. Allerdings würde ich nächstes Mal nicht mehr über WINGLY bu...

Rundflug ab Mainz in das schöne Rheingebiet

Ein absolut atemberaubender Rundflug! Die Aussicht von oben war einfach spektakulär😎und hat mich sprachlos gemacht. Michael und Denis waren sehr professionell und haben die Reise sicher und angenehm gestaltet. Die gesamte Erfahrung war einfach unvergesslich und ich kann diesen Rundflug jedem empfehlen, der nach einem aufregenden Abenteuer sucht✈️. Der Pilot Michael war auch sehr flexibel bezüglich des Wetters. Ohne Kompromisse und Diskussion konnte ich unseren Termin 2 mal verschieben um das pe...

30min Schnupperflug Rheingau oder Loreley

☆☆☆☆☆Superior plus 🥰👍 Der Rundflug ab Finthen, über den Rhein zum Rotenfels bei Bad Kreuznach war sehr, sehr schön und ein supertolles Erlebnis, was wir so schnell nicht vergessen werden. Mega 😊 Der Pilot Denis war sehr gut und hat diesen Rundflug zu einem echten Erlebnis werden lassen. Vielen lieben Dank für die Erfüllung der individuellen Wünsche👍 Am heutigen Tag hatten wir auch genau das richtige Zeitfenster mit herrlichem Flugwetter erwischt.🌞 Besser geht's nicht...🛫 Eine absolut...

Rundflug ab Mainz in das schöne Rheingebiet

Wir sagen Danke Denis, für den außerordentlichen Service als auch für den in jeder Hinsicht professionellen Flug.
Things to know
Total experience time
The total experience time is 1h 30m as it includes briefings and 1h for flying.
Weather
Good weather conditions are required for this flight to take place. The pilot may need to postpone or cancel your booking.
Cancellation policy
You can cancel up to 24 hours before the flight date.
What to bring
Feel free to bring your camera and sunglasses onboard.
We've got you covered
All Wingly flights are automatically covered by our Allianz insurance for claims up to €1,000,000. This covers all passengers and their belongings.
Learn more about the insurance
Frequently asked questions