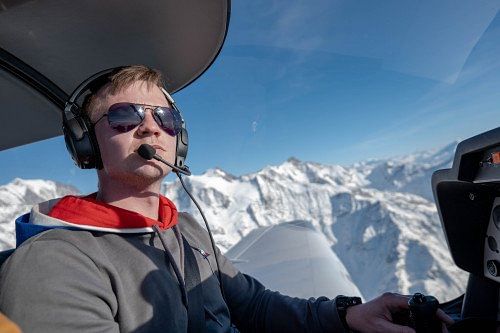 Excursion flight
You will fly from Strasbourg to Cannes to enjoy your time there, then you will fly back.
View flight plan
Private pilot
A private individual flying in their own free time who contributes to the total price through cost sharing.
Description
Bonjour, je vous propose un aller retour à Cannes dans un avion très bien équipé, le temps d'un weekend ou de quelques jours en semaine, à votre guise !
Flight plan
Sightseeing points

Oyonnax, France
Aircraft
Verified by Wingly
Our team has thoroughly checked the pilots license and medical certificate.
Private pilot
A private individual flying in their own free time who contributes to the total price through cost sharing.
Flight Log
421 total flying hours • 254 flight hours in the last 12 months
Pilote professionnel et instructeur, je vous propose de voler à mes cotés afin de pouvoir découvrir la région ainsi que le domaine de l'aviation légère ! C'est avec joie que je vous propose ces balades aériennes et répondrais à toutes vos questions !
Pilot reviews
Balade au Haut Koenigsbourg

Merci Guillaume pour ce beau vol ! Une communication jusqu'au dernier moment sur les aléas de la météo et les possibilités de réussite de cette sortie. Tout était parfait : les informations sur les avions, sur le déroulement du vol de ce type d'appareil et les indications pendant le survol des différents sites. Un pilote disponible et très agréable ! Nous sommes ravis de l'expérience que nous a fait vivre Guillaume. Nous recommandons vivement cette balade qui donne un autre aperçu de notre bell...

Balade au Haut Koenigsbourg

Un super vol ! Guillaume est très sympathie et patient. Il nous a tout expliqué du début à la fin,, je le recommande à 100% Encore merci pour ce beau moment

Balade en Alsace

vol très sympathique en compagnie de guillaume !

Balade au Haut Koenigsbourg (3 places)

Guillaume est une personne courtoise et patiente qui a su faire preuve d'une grande patience et de flexibilité pour trouver un créneau de libre face aux aléas sanitaires, météorologiques et à la complexité de nos emplois du temps bien remplis. C'est un pilote professionnel, à l'écoute et agréable. Après le briefing sécurité, les explications sur la météo et notre plan de vol, ainsi que l'aide pour notre installation dans l'appareil, il nous a guidé tout au long d'un magnifique survol des vosges ...

Balade au Haut Koenigsbourg

Guillaume est un pilote très sympathique et très compétent ; nous avons réalisé avec lui un vol intéressant dont nous garderons le meilleur souvenir. Nous lui souhaitons plein succès dans la réalisation de son projet professionnel ! Grand grand merci à lui pour cette expérience inoubliable ! Christiane & Jacques
Things to know
Total experience time
The total experience time is 60h as it includes briefings and 5h 30m for flying.
Weather
Good weather conditions are required for this flight to take place. The pilot may need to postpone or cancel your booking.
Cancellation policy
You can cancel up to 24 hours before the flight date.
What to bring
Feel free to bring your camera and sunglasses onboard.
We've got you covered
All Wingly flights are automatically covered by our Allianz insurance for claims up to €1,000,000. This covers all passengers and their belongings.
Learn more about the insurance
Frequently asked questions