Christmas Sale 🎄
Save up to €30 with code XMAS.
Almost late for your Christmas shopping👇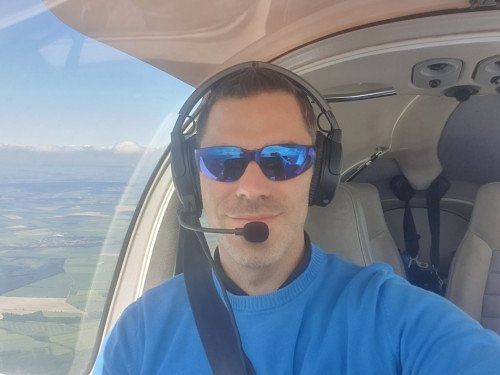 Excursion flight
You will fly from Braunschweig to Sierksdorf to enjoy your time there, then you will fly back.
View flight plan
Private pilot
A private individual flying in their own free time who contributes to the total price through cost sharing.
Description
Ein kurzer Ausflug an die Ostsee. Am Flugplatz Sierksdorf können Fahrräder ausgeliehen werden. Dann ist man in 5 Minuten am Strand.
Aircraft
Verified by Wingly
Our team has thoroughly checked the pilots license and medical certificate.
Private pilot
A private individual flying in their own free time who contributes to the total price through cost sharing.
Flight Log
84 total flying hours • 60 flight hours in the last 12 months
Pilot reviews
Brocken Rundflug

Ich hatte einen Rundflug zum Brocken gebucht und hatte mich für den Piloten Matthias entschieden, meinen Namensvetter. Das war eine sehr gute Entscheidung. Matthias ist total freundlich, locker und sympathisch. Es wurden mir alle Fragen zum Flug, zur Technik und alles rund um die Fliegerei in einem lockeren Gespräch auch während des Fluges sehr interessant beantwortet. Der Flug war ein Traum, bei sehr gutem Wetter, kurz vor dem Sonnenuntergang, den man aus der Luft bewundern konnte. Ich fühlte m...

Brocken Rundflug

Wir sind (zu zweit) am Wochenende mit Matthias mit einer Diamond zu einem einstündigen Rundflug über dem Harz gestartet. Es war ein wunderschönes Erlebnis. Schon im Vorfeld war mit Matthias alles Notwendige schnell und unkompliziert geklärt. Dazu kam dann vor Ort die sehr freundliche Art von Matthias - gepaart mit Erfahrung - sodass der Flug richtig schön wurde. Noch einmal vielen Dank!

Rundflug mit Brocken-Blick

Es war einfach super! Wir haben unserer Schwägerin den Rundflug geschenkt. Sie war das 1. Mal in der Luft. Die Absprachen zum Wo und Wann liefen reibungslos. Matthias hat ihr alles Wesentliche erklärt und so konnte sie den Flug in vollen Zügen genießen. Nach dem Flug kam sie strahlend zurück und das glückliche Lächeln und die Begeisterung hielten noch lange an. Danke Matthias, so wurde unser Geschenk ein voller Treffer. Die Unterstützung durch Wingly war ausgezeichnet, vielen Dank und wir können...

Rundflug mit Brocken-Blick

Mein Mann ist geflogen es war ein Geschenk von uns. Der Piolt war super nett und ist sehr gut geflogen. Mit Pilot Matthias immer wieder gerne! Kann ich nur weiter empfehlen! Rolf
Things to know
Total experience time
The total experience time is 1h 20m as it includes briefings and 1h 20m for flying.
Weather
Good weather conditions are required for this flight to take place. The pilot may need to postpone or cancel your booking.
Cancellation policy
You can cancel up to 24 hours before the flight date.
What to bring
Feel free to bring your camera and sunglasses onboard.
We've got you covered
All Wingly flights are automatically covered by our Allianz insurance for claims up to €1,000,000. This covers all passengers and their belongings.
Learn more about the insurance
Frequently asked questions