Christmas Sale 🎄
Save up to CHF 100 with code SANTA.
Almost late for your Christmas shopping👇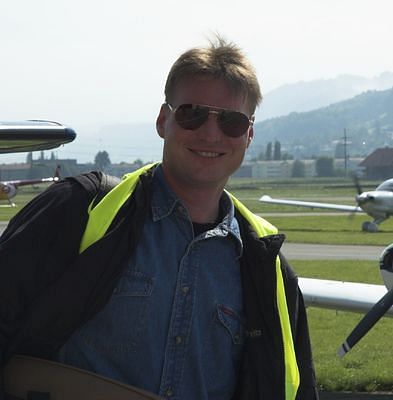 Sightseeing flight
You will fly from Bern and come back. Enjoy the beautiful landscapes along the way.
View flight plan
Private pilot
A private individual flying in their own free time who contributes to the total price through cost sharing.
Description
Wir fliegen in einem der modernsten Flugzeuge zu der wunderschönen Bergwelt im Berner Oberland. Via Thun fliegen wir zum Schilthorn und dann vorbei an Eiger, Mönch und Jungfrau und via Lauterbrunnental und Interlaken zurück nach Bern. Verfügbar sind 4 Sitzplätze.
Flight plan
Sightseeing points

Schilthorn - Piz Gloria, Mürren, Schweiz
Thunersee, Schweiz
Mürren, Lauterbrunnen, Schweiz
Aircraft
Verified by Wingly
Our team has thoroughly checked the pilots license and medical certificate.
Private pilot
A private individual flying in their own free time who contributes to the total price through cost sharing.
Flight Log
1050 total flying hours • 25 flight hours in the last 12 months
Als Privatpilot mit grosser Erfahrung in den Bereichen Alpenflug und Ausland fliege ich ab Bern zu Destinationen in der Schweiz und ins angrenzende Ausland. Geflogen wird mit einer modernen fünfplätzigen Diamond DA50 RG mit einer äusserst geräumigen Kabine und grossen Fenstern
Pilot reviews
Berner Alpen

Eine sehr gute Erfahrung!

Berner Alpen

We had a great time on our flight to the Bernese Alps. Markus is a very nice and professional pilot. Gerne wieder.

Berner Alpen

Wir hatten einen fantastischen Flug mit Markus! Er hat uns schon vor dem Flug prima unterstützt - das Wetter war sehr wechselhaft. Am Tag des Flugs gab es ein paar Wolken aber Dank Markus haben wir alle Highlights (Matterhorn, Aletschgletscher, u.n.v.m.) mega gut sehen können und es war wirklich eine einmalige Erfahrung.

Matterhorn-Flug ab Bern-Belpmoos

Wegen Wolken und schlechter Sicht konnte der geplante Flug über die Alpen zum Matterhorn nicht durchgeführt werden. Markus war aber sehr flexibel und hat uns eine Alternative via Freiburg, Greyerzerland ins Wallis und retour via Seeland/Jura oder eine Terminverschiebung angeboten. Wir haben uns für den Flug entschieden und es nicht bereut. Mit der Zwischenlandung in Sion und dem kurzen Abstecher zum Creux du Van war dieser Flug ein absolutes Highlight. Markus ist ein super Pilot und Reiseführer....

Berner Alpen

Markus ist ein sehr angenehmer, ruhiger Pilot, der uns alles gut erklärt hat und uns sehr sicher die Berner Alpen zeigte. Alles hat bestens geklappt. Gerne wieder!
Things to know
Total experience time
The total experience time is 40m as it includes briefings and 40m for flying.
Weather
Good weather conditions are required for this flight to take place. The pilot may need to postpone or cancel your booking.
Cancellation policy
You can cancel up to 24 hours before the flight date.
What to bring
Feel free to bring your camera and sunglasses onboard.
We've got you covered
All Wingly flights are automatically covered by our Allianz insurance for claims up to €1,000,000. This covers all passengers and their belongings.
Learn more about the insurance
Frequently asked questions