Christmas Sale 🎄
Save up to €50 with code XMAS.
Almost late for your Christmas shopping👇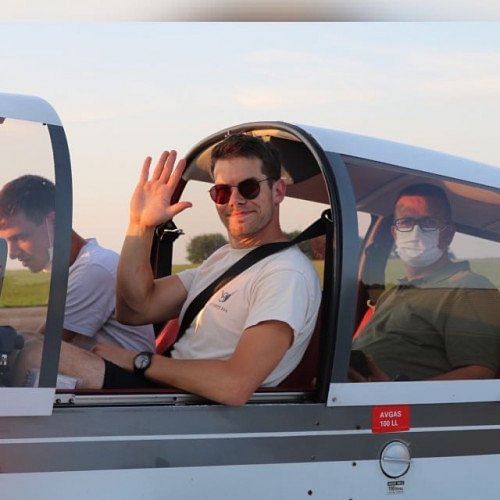 Sightseeing flight
You will fly from Pontivy and come back. Enjoy the beautiful landscapes along the way.
View flight plan
Private pilot
A private individual flying in their own free time who contributes to the total price through cost sharing.
Description
Une de mes balades aérienne favorite ! On prend un cap au sud puis on atteint rapidement le paysage côtier. C'est un vrai régal de voler entre terre et mer. La balade comprend de base : - La ria d'Etel et son embouchure - Carnac, où vous devrez trouver les alignements. - Le Golfe du Morbihan Mais c'est aussi (et surtout) c'est selon vos envies ... vous pouvez me suggérer un détour, je ne manquerai pas d'en étudier la faisabilité ! Avant la réservation je vous demande votre poids afin de valider...
Flight plan
Sightseeing points

Pont Lorois, France
Carnac, France
Golfe du Morbihan, France
Aircraft
Verified by Wingly
Our team has thoroughly checked the pilots license and medical certificate.
Private pilot
A private individual flying in their own free time who contributes to the total price through cost sharing.
Flight Log
140 total flying hours • 17 flight hours in the last 12 months
Petit fils de pilote dans l'armée de l'air et passionné très tôt, dès mon premier meeting (à Lannion) j'entre dans le cockpit d'un avion de chasse, tous ces boutons et cadrans me fascinent, je veux devenir pilote. Ce n'est qu'à 25 ans, que je décide de commencer une formation sur Cessna 152 a l'aéroclub du Pithiverais (45). Quelques temps plus tard et 60h au compteur, je déménage, j'emporte beaucoup de beaux souvenirs avec moi, j'y ai appris que l'aviation c'est principalement une aventure hum...
Pilot reviews
Balade aérienne au départ Pontivy avec véronique

Une superbe balade aérienne du sud Bretagne avec un pilote extrêmement sympathique et compétent. Cyrille est un passionné qui n'a pas manqué de nous communiquer un descriptif détaillé des endroits survolés et dont le caractère doté d'une touche d'humour nous a rendu le vol très agréable. Une expérience inoubliable et un pilote à recommander

Sud Morbihan 360°

Nous avons particulièrement apprécié Cyrille, on se sent réellement en confiance de par son professionnalisme, le fait qu'il soit à notre écoute et sa réactivité devant les désagréments que l'ont a pu avoir et qui ne sont pas de sont fait à lui . Un grand merci Cyrille et j'espère que l'on pourra se refaire un petit tour . Gaëtan et Anne

Sud Morbihan 360°

Merci à Cyrille super sympa agréable explique tout en résumé un pro 👍 et vol très bien surtout !! 😂 je recommande à 200% 😉bonne continuation et bon vol 😊

Tour du Golfe du Morbihan

Fantastique vol de découverte du golfe du Morbihan qui sera le prélude à une visite plus approfondie au sol, en particulier de la rivière d'Etel. Merci Cyrille pour tes commentaires des différents lieux survolés et sur les explications plus techniques relatives au vol. C'est une expérience qui restera gravée dans nos mémoires et nous avons passé un moment très agréable en ta compagnie.

Sud Morbihan 360°

Bonjour. Quel voyage fantastique, survoler le golf du Morbihan, voir la Trinité, Carnac, la presqu'île de Quiberon, et surtout notre ria d'Etel, avec un soleil resplendissant et Cyrille qui pilote cet avion en virtuose, n'omettant pas de dire et expliquer toutes les actions qu'il effectue, nous permettant en plus de la vue spectaculaire de comprendre le fonctionnement de l'avion. Cette expérience fut formidable et nous espérons pouvoir la rééditer prochainement. Un IMMENSE merci à Cyrille po...
Things to know
Total experience time
The total experience time is 1h 15m as it includes briefings and 1h 15m for flying.
Weather
Good weather conditions are required for this flight to take place. The pilot may need to postpone or cancel your booking.
Cancellation policy
You can cancel up to 24 hours before the flight date.
What to bring
Feel free to bring your camera and sunglasses onboard.
We've got you covered
All Wingly flights are automatically covered by our Allianz insurance for claims up to €1,000,000. This covers all passengers and their belongings.
Learn more about the insurance
Frequently asked questions