Christmas Sale 🎄
Save up to €100 with code XMAS.
Almost late for your Christmas shopping👇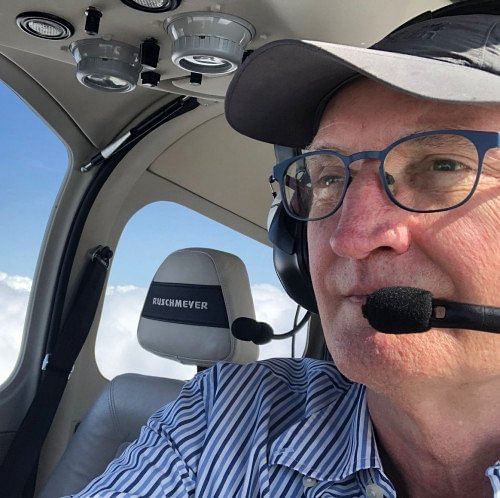 Private pilot
A private individual flying in their own free time who contributes to the total price through cost sharing.
Description
Wir fliegen den ersten Abschnitt über den Jadebusen, Elbmündung bis Büsum. Hier gibt es u.a. ein wunderbares Krabbenbrot. Alternativ: St.Peter-Ording (Sitzplatzwechsel) Anschließend fliegen wir teilweise am Nord-Ostsee-Kanal entlang bis Rendsburg (ohne Landung) und dann weiter zur Landung nach Hamburg-Uetersen. Hier lassen wir beim Kaffee die Erlebnisse erst mal "sacken". Alternativ: Auf Südkurs der Küstenlinie entlang und der Elbe ab Mündung bis Uetersen folgend. (Sitzplatzwechsel). Dann geht ...
Flight plan
Sightseeing points

Heide–Büsum Airport, Am Flugplatz, Oesterdeichstrich, Deutschland
Marne, Deutschland
Brunsbüttel, Deutschland
Aircraft
Verified by Wingly
Our team has thoroughly checked the pilots license and medical certificate.
Private pilot
A private individual flying in their own free time who contributes to the total price through cost sharing.
Flight Log
1250 total flying hours • 80 flight hours in the last 12 months
Seit 1989 bin ich in der Luft unterwegs. Anfangs auf Vereinsflugzeugen, später in Haltergemeinschaften. Seit mehr als 10 Jahren fliege ich auf einer Ruschmeyer R90-230RG. Seinerzeit war die R90 das modernste Flugzeug "Made in Germany" und das Leiseste seiner Klasse dank des 4-Blatt-Verstellpropellers. Damit hat die R90 eine Reisegeschwindigkeit von bis zu 300km/h. Mit diesem Flugzeugtyp bin ich nun über 600 Stunden geflogen, bis hoch zum Nordkap, runter in die griechische Ägäis und 2022 ans Schw...
Pilot reviews
Ausflug über den Nord-Westen

Hat sehr viel Spaß gemacht. Klare Empfehlung und tolle Erfahrung!

Ausflug über den Nord-Westen

Unser Flug über Ostfriesland und die Inseln war ein Geburtstagsgeschenk für meinen Mann zum 50. Geburtstag. Es war ein wunderbare Erfahrung über unsere Heimat zu fliegen und alles von oben zu sehen. Unser Pilot Harm ist auf unseren Wunsch einmal über unser Haus zu fliegen sofort eingegangen. Er hat Fragen beantwortet und viel erklärt während des Fluges. Wir haben uns jederzeit sicher und gut aufgehoben gefühlt. Es war ein tolles Erlebnis und wir würden jederzeit gerne wieder mit Harm fliegen!

Juist – nur auf einen Kaffee…

Es war ein toller Flug mit Zwischenstopp auf Juist in absolut netter Gesellschaft. Harm hat uns souverän, sehr sympathisch, unterhaltsam, informativ und mit Freude durch den Tag geführt. Wir haben uns zu jeder Zeit sicher und gut aufgehoben gefühlt. Ein Flug mit Harm ist ein Erlebnis und auf jeden Fall weiterzuempfehlen. Auch im Vorfeld gab es eine reibungslose, unkomplizierte unf flexible Kommunikation. Vermutlich gibt es auch noch Verbindungen zur Wetterfee... ;)

Rundflug über den Nord-Westen

Unsere Freunde waren begeistert. Der Pilot kompetent, freundlich und kommunikativ. Er hat die Flugstrecke super ausgesucht und auf Sehenswürdigkeiten hingewiesen. Immer wieder gerne mit Harm"Up in the air"

Ausflug über den Nord-Westen

Wir hatten heuten einen wunderschönen Rundflug mit unserem Piloten Harm 🛩️ Bevor es losging haben wir sehr interessantes Wissen über das Fliegen vermittelt bekommen - der Rundflug ging los von Westerstede-Felde über Leer, Emden, die ostfriesischen Inseln, Wilhelmshaven und zurück nach Felde. Wir haben uns sehr wohl gefühlt und unser Pilot Harm hat uns ein sehr sicheres Gefühl vermittelt. Gerne wieder 😊
Things to know
Total experience time
The total experience time is 2h as it includes briefings and 2h for flying.
Weather
Good weather conditions are required for this flight to take place. The pilot may need to postpone or cancel your booking.
Cancellation policy
You can cancel up to 24 hours before the flight date.
What to bring
Feel free to bring your camera and sunglasses onboard.
We've got you covered
All Wingly flights are automatically covered by our Allianz insurance for claims up to €1,000,000. This covers all passengers and their belongings.
Learn more about the insurance
Frequently asked questions