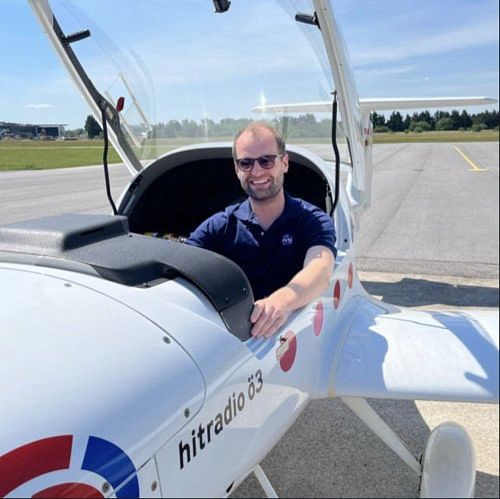 Sightseeing flight
You will fly from Bad Vöslau and come back. Enjoy the beautiful landscapes along the way.
View flight plan
Private pilot
A private individual flying in their own free time who contributes to the total price through cost sharing.
Description
Nach einem ausführlichen Briefing starten wir in Bad Vöslau. Wir beginnen den Rundflug und nehmen Kurs in Richtung St. Pölten. Dabei sehen wir den Schneeberg und überfliegen den wunderschönen Wiener Wald. Anschliessend überqueren wir die Donau und fliegen über die Wachau. Nach ca. einer Stunde sind wir dann wieder zurück am Platz! Ich werde mir dabei Mühe geben Dir jede Frage zum fliegen oder zum Flieger zu beantworten. Die Fliegerei ist mein Leben und diese Leidenschaft teile ich gerne! :-)
Flight plan
Sightseeing points

St. Pölten, Österreich
Krems an der Donau, Österreich
Aircraft
Verified by Wingly
Our team has thoroughly checked the pilots license and medical certificate.
Private pilot
A private individual flying in their own free time who contributes to the total price through cost sharing.
Flight Log
85 total flying hours • 85 flight hours in the last 12 months
As a lifelong aviation enthusiast, I have dedicated countless hours to honing my skills and deepening my knowledge of all things related to flying. I am happy that I am able to share my love for aviation on this platform! Beyond the cockpit, I strive to be an ambassador for aviation, sharing my passion with others and inspiring them to experience the wonder of flight. I eagerly engage in conversations, eagerly answering questions and offering insights into the world of aviation, with the hope o...
Pilot reviews
Rundflug in Wien Umgebung

Right from the moment we arrived in Vöslau, Andreas greeted me with a genuine smile, making me feel welcome. His professionalism and attention to detail were evident as he took the time to walk me through the pre-flight preparations, ensuring that we felt comfortable and informed throughout the entire process. Once in the air, Andreas' expertise as a pilot shone brightly. The flight was incredibly smooth, and Andreas maneuvered the aircraft with skill and precision, making safety his top priori...
Things to know
Total experience time
The total experience time is 1h as it includes briefings and 1h for flying.
Weather
Good weather conditions are required for this flight to take place. The pilot may need to postpone or cancel your booking.
Cancellation policy
You can cancel up to 24 hours before the flight date.
What to bring
Feel free to bring your camera and sunglasses onboard.
We've got you covered
All Wingly flights are automatically covered by our Allianz insurance for claims up to €1,000,000. This covers all passengers and their belongings.
Learn more about the insurance
Frequently asked questions