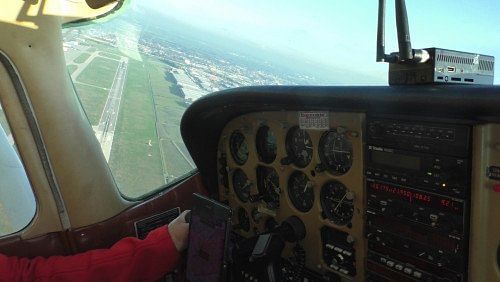 Private pilot
A private individual flying in their own free time who contributes to the total price through cost sharing.
Description
Flug mit erfahrenem Piloten und IFR tauglicher Maschine von Braunschweig nach Schwäbisch-Hall und Abends wieder zurück (Absetzen im Umkreis Stuttgart/Ingolstadt/Nürnberg/München nach Absprache möglich) Die oben angegebene Gesamtzeit und der Preis bezieht sich auf den Flug von Braunschweig nach Schwäbisch-Hall und zurück. Wenn Ihr gern von einen anderen Abflughafen im Umkreis abgeholt werden würdet, oder einem anderen Platz im Zielgebiet landen möchtet, kontaktiert mich bitte rechtzeitig. Sof...
Aircraft
Verified by Wingly
Our team has thoroughly checked the pilots license and medical certificate.
Private pilot
A private individual flying in their own free time who contributes to the total price through cost sharing.
Flight Log
700 total flying hours • 87 flight hours in the last 12 months
Hier gibt es spannenden Flüge innerhalb Europas, Rundflüge, oder einfach nur Streckenflüge innerhalb Deutschlands. Als Pilot verfüge ich über eine gute langjährige Erfahrung, besitze 2 Flugzeuge und bin auch mit einem Teil meines Unternehmens für die Luftfahrtindustrie tätig. Momentan sammle ich Stunden für meine ATPL (1500 required), daher biete ich gegen Kostenteilung eine Mitfluggelegenheit für nette und gern auch abenteuerlustige Passagiere. Ich freue mich auf unser Zusammentreffen und seh...
Pilot reviews
Elbe Saale Mündung Geburtstagsflug mit Gutschein für Simones

Hat sehr viel Spaß gemacht mit diesem Piloten zu fliegen. War eine angenehme und schöne Zeit. Sicherlich mal wieder. LG Simone Meyer

Flug für Olga Ostfriesische Inseln Spezial wie besprochen

Der Flug hat uns sehr gut gefallen . Marcus hat viel erzählt, extra für mich um Insel rum gefahren damit ich Fotos machen kann. Das einzige böse Überraschung war das wir noch 600 Euro bezahlen mussten . Solche Summen soll man im Vorfeld abspreche.
Things to know
Total experience time
The total experience time is 3h 20m as it includes briefings and 3h 20m for flying.
Weather
Good weather conditions are required for this flight to take place. The pilot may need to postpone or cancel your booking.
Cancellation policy
You can cancel up to 24 hours before the flight date.
What to bring
Feel free to bring your camera and sunglasses onboard.
We've got you covered
All Wingly flights are automatically covered by our Allianz insurance for claims up to €1,000,000. This covers all passengers and their belongings.
Learn more about the insurance
Frequently asked questions