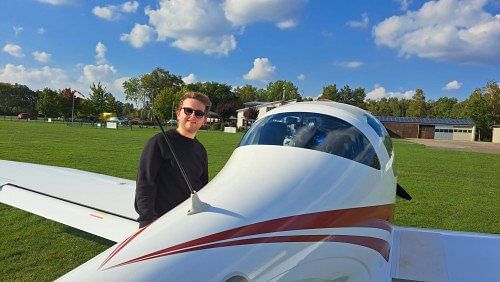 Sightseeing flight
You will fly from Hodenhagen and come back. Enjoy the beautiful landscapes along the way.
View flight plan
Private pilot
A private individual flying in their own free time who contributes to the total price through cost sharing.
Description
Schön dass du dich für den Rundflug über Hannover interessierst. Ich biete hier einen Rundflug ab Hodenhagen nach Hannover an. Hodenhagen liegt Luftlinie in etwa 10 Minuten nördlich von Hannover entfernt. Ab hier starten wir ohne große Wartezeit direkt nach Hannover, erleben eine atemberaubende Aussicht der Sehenswürdigkeiten von Hannover mit anschließendem Flug Richtung Steinhuder Meer und fliegen anschließend wieder zurück zum Startplatz. Wenn es die Verkehrslage zulässt, werden wir während d...
Flight plan
Sightseeing points

Flughafen Hannover (HAJ), Flughafenstraße, Langenhagen, Deutschland
Herrenhäuser Gärten, Herrenhäuser Straße, Hannover, Deutschland
Maschsee, Hannover, Deutschland
Aircraft
Verified by Wingly
Our team has thoroughly checked the pilots license and medical certificate.
Private pilot
A private individual flying in their own free time who contributes to the total price through cost sharing.
Flight Log
64 total flying hours • 59 flight hours in the last 12 months
Moin und Servus. Ich bin der Christian und wohne aktuell in Hannover. Die Luftfahrt an sich fasziniert mich schon mein gesamtes Leben und habe auch das Privileg in diesem Bereich zu arbeiten. Letztendlich habe ich mir den Traum vom Fliegen erfüllt und suche jederzeit Menschen die mit mir Rundflüge oder Ausflüge machen und die Welt von einer ganz anderen Perspektive erkunden wollen. Ich freue mich, dieses Erlebnis mit euch teilen zu dürfen.
Pilot reviews
Hannover und Steinhuder Meer von oben

Der Rundflug hat mir sehr viel Spaß gemacht! Christian ist auch auf besondere Wünsche entlang der Route eingegangen. Ein toller Pilot, sehr gerne wieder!

Hannover und Steinhuder Meer von Oben

Mein Sohn hatte einen sehr schönen Rundflug mit Christian. Er ist ein ruhiger, freundlicher und kompetenter Pilot. Nach einem entspannten Vorgespräch mit einer Einweisung, ging es in die Luft. Er ging auf die Wünsche u. a. bzgl. der Route ein und führte mit meinem Sohn freundliche und informative Gespräche während des Fluges. Die Absprachen im Vorfeld waren zuverlässig, alles lief nach Plan. Jederzeit gerne wieder! 😊

Hannover und Steinhuder Meer von Oben

Chris ist ein sehr freundlicher und versierter Pilot.Wir hatten wunderbares Wetter mit toller Sicht. Alles hat wunderbar geklappt und ich freue mich auf ein nächstes Mal.
Things to know
Total experience time
The total experience time is 1h as it includes briefings and 1h for flying.
Weather
Good weather conditions are required for this flight to take place. The pilot may need to postpone or cancel your booking.
Cancellation policy
You can cancel up to 24 hours before the flight date.
What to bring
Feel free to bring your camera and sunglasses onboard.
We've got you covered
All Wingly flights are automatically covered by our Allianz insurance for claims up to €1,000,000. This covers all passengers and their belongings.
Learn more about the insurance
Frequently asked questions