Christmas Sale 🎄
Save up to €100 with code XMAS.
Almost late for your Christmas shopping👇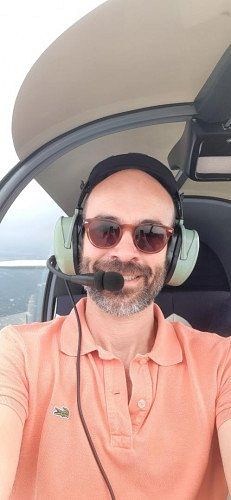 Excursion flight
You will fly from Nantes to Île-d'Yeu to enjoy your time there, then you will fly back.
View flight plan
Private pilot
A private individual flying in their own free time who contributes to the total price through cost sharing.
Description
Bonjour, Nous décollons à 10h de Nantes-Altantique et survolons Noirmoutier, puis l'océan jusqu'à Yeu, où nous nous posons quelques heures. Vous avez le temps d'aller à la plage située à 2km de la piste: Promenade, pique-nique ...vous tendent les bras. Nous redécollons vers 16h. En quittant l'aéroclub vous aurez l'impression d'avoir vécu une parenthèse grâce à l'ambiance sauvage de l'Île d'Yeu et à la singularité de notre vol. Dépaysement garanti et plus rapide qu'au départ du bateau de Fromen...
Aircraft
Verified by Wingly
Our team has thoroughly checked the pilots license and medical certificate.
Private pilot
A private individual flying in their own free time who contributes to the total price through cost sharing.
Flight Log
180 total flying hours • 26 flight hours in the last 12 months
Mes passagers ont eu l'occasion de parler de leur vol avec moi. Je vous invite à lire leurs avis. Pour compléter ces informations: je pilote depuis 2006 et m'évade dans les airs chaque fois que c'est possible. J'ai hâte de vous permettre de regarder la Terre depuis le ciel à une hauteur humaine, et de partager l'immense sensation de liberté du vol en avion de tourisme. A très vite, Nicolas Vous pouvez regarder la story postée par Eloïse: https://www.youtube.com/watch?v=-az53SgAx-0 Concernant ...
Pilot reviews
Balade aérienne Nantes - Noirmoutier - Pornic - Nantes

Un vol très agréable, avec un pilote très sympa, passionné, et intéressant pour un baptême de l'air. Rien à redire, que ce soit sur le vol, l'accueil, l'organisation. Nicolas est resté très à l'écoute de nos attentes, nous a expliqué clairement toutes les étapes du vol, et ça restera une expérience très agréable

Balade aérienne Nantes - Noirmoutier - Pornic - Nantes

Parfait , c'était vraiment parfait, le vol reporté une première fois sur les conseils de Nicolas nous a permis de bénéficier d'une météo idéale pour profiter de notre baptême de l'air avec mon fils qui à même pu prendre les commandes quelques instants. Vraiment à refaire ! Que du bonheur ! Sonia et nathael expérience le: 12 aout 2023

Excursion demi-journée à l'île d'Yeu

Nous avons passé une journée inoubliable à l'ile d'Yeu. Nicolas nous a déposé vers 10h le matin et retour vers 18h. Excellent accueil du pilote, très sympathique et très pédagogue. Il nous a expliqué pendant le trajet ce qu'est le pilotage, mais il s'est aussi montré un excellent guide touristique, nous permettant de mieux nous repérer vu du ciel. Nous avons passé un très agréable moment avec lui. Du 5 étoiles !!!!

Excursion journée à Belle-Île

C'était une 1ère pour ma femme et moi et nous avions naturellement quelques appréhensions. Or Nicolas est très rassurant, il explique les choses calmement et avec enthousiasme. Ainsi le vol s'est très bien passé. Ce qui frappe le béotien c'est la sécurité à tous les niveaux, avant, pendant et après le vol : check-list avant vol et après vol, liaison avec les différentes tours de contrôle, consignes...Vu de l'extérieur l'aviation de tourisme fait assez cool, en réalité c'est fait très sérieusemen...

Balade aérienne Nantes - Noirmoutier - Pornic - Nantes

Magnifique expérience que ce vol en fin de journée. Nicolas partage sa passion avec enthousiasme et pédagogie. Les sensations de vol au dessus de notre belle région sont grisantes et émouvantes. Adrien et Leo ont les yeux qui brillent. On reviendra c'est sur. Merci Nicolas pour ce moment hors du temps.
Things to know
Total experience time
The total experience time is 7h as it includes briefings and 1h 45m for flying.
Weather
Good weather conditions are required for this flight to take place. The pilot may need to postpone or cancel your booking.
Cancellation policy
You can cancel up to 24 hours before the flight date.
What to bring
Feel free to bring your camera and sunglasses onboard.
We've got you covered
All Wingly flights are automatically covered by our Allianz insurance for claims up to €1,000,000. This covers all passengers and their belongings.
Learn more about the insurance
Frequently asked questions