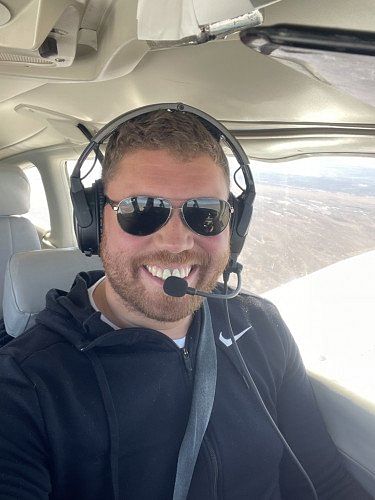 Excursion flight
You will fly from Lydd to Duxford to enjoy your time there, then you will fly back.
View flight plan
Private pilot
A private individual flying in their own free time who contributes to the total price through cost sharing.
Description
If you like aviation, then you'll like this flight. We start in Lydd (where the aeroplane is based) and fly up to Duxford Aerodrome (Europe's largest Aviation Museum). Here you'll get close and personal with some of the most amazing flying machines (entry fee to the museum included). I'll let you explore the museum while I visit my favourite spots (I am happy to tour the museum with you, but am also happy to leave you to do that yourself). When you're ready to go, we'll head back to Lydd. (Lates...
Aircraft
Verified by Wingly
Our team has thoroughly checked the pilots license and medical certificate.
Private pilot
A private individual flying in their own free time who contributes to the total price through cost sharing.
Flight Log
180 total flying hours • 100 flight hours in the last 12 months
Hi, I'm Jeff. I got into aviation properly a few years ago. I am a Bioengineer now working as an energy trader in London. My fascination with aviation started when I was 6 years old (when my parents took me to the US for the first time) at that time you were still allowed to say "Hi", to the captain on the flight deck. I then flew gliders as a teenager and now have a Pilots License for Powered Aircraft. I trained in Lydd (EGMD) and most recently went to the Rocky Mountains to do some flyi...
Pilot reviews
Coastal Flight

We booked this flight as a birthday treat for my Dad to celebrate his 90th Birthday. Jeff is such a friendly guy and he clearly explained all the procedures and options for the flight beforehand and was willing to do everything he could to ensure we had a great flight, which we certainly did! The route out along the coast taking in Eastbourne, Hastings, Rye and Canterbury is both interesting and scenic. Jeff provided information on some of the sights along the way and gave a fascinating insight...
Things to know
Total experience time
The total experience time is 2h 40m as it includes briefings and 2h 40m for flying.
Weather
Good weather conditions are required for this flight to take place. The pilot may need to postpone or cancel your booking.
Cancellation policy
You can cancel up to 24 hours before the flight date.
What to bring
Feel free to bring your camera and sunglasses onboard.
We've got you covered
All Wingly flights are automatically covered by our Allianz insurance for claims up to €1,000,000. This covers all passengers and their belongings.
Learn more about the insurance
Frequently asked questions