Christmas Sale 🎄
Save up to €100 with code XMAS.
Almost late for your Christmas shopping👇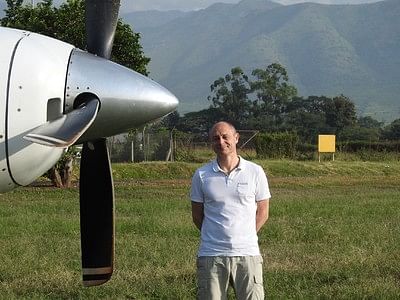 Sightseeing flight
You will fly from Jesenwang and come back. Enjoy the beautiful landscapes along the way.
View flight plan
Private pilot
A private individual flying in their own free time who contributes to the total price through cost sharing.
Description
Jesenwang - Neuschwanstein - Garmisch - Zugspitze - Leutaschtal - Walchensee - Starnberger See - München - Jesenwang
Aircraft
Verified by Wingly
Our team has thoroughly checked the pilots license and medical certificate.
Private pilot
A private individual flying in their own free time who contributes to the total price through cost sharing.
Flight Log
220 total flying hours • 12 flight hours in the last 12 months
Ich habe seit Sommer 2014 den Flugschein und habe Spaß daran die Landschaft von oben zu sehen und gerne auch einen Ausflug in die Berge zu machen. Für alle Flüge gilt aber ganz klar: Safety first.
Pilot reviews
Rund um die Zugspitze

Hallo Robert, Auch wenn schon einige Tage vergangen sind, das Erlebnis unseres Rundfluges in die bayrischen Alpen ist noch jeden Tag präsent. Den umfassenden Eindruck, den Du uns in die Fliegerei vermittelt hast, wird wohl lange anhalten. Zum Flug kann man nur sagen "Einfach phantastisch". Vielleicht ergibt sich einmal die Möglichkeit eines weiteren Fluges, aber dann sollten wir die gesamte Reichweite des Flugzeuges ausnutzen. Gruß Eckhard

Rund um die Zugspitze

Der Rundflug über die Alpen und das Alpenvorland war ein wunderbares Geschenk für den 60. Geburtstag meines Papas. Er war sehr begeistert, unsere Heimat mal aus einem anderen Blickwinkel zu sehen. Robert ist ein sehr sympathischer Mensch und super Pilot. Immer wieder gerne :)

Rund um die Zugspitze

Robert ist sehr professionell und hat alle unsere Fragen zuvorkommend beantwortet. Er ist darüber hinaus ein interessanter Gesprächspartner und der schöne Flug verging wie im Flug. Zum Rundflug hinzu konnten wir noch München von oben bestaunen. Das Erlebnis macht Lust auf mehr :-)

Rund um die Zugspitze

Es war ein guter Flug bei perfektem Wetter. Das kann nur weiter empfehlen.

Rundflug von Neuschwanstein bis zum Chiemsee

Der Rundflug mitm Robert war super, kann nur weiter emfohlen werden. Hat Spaß gemacht und zu jeder Zeit ein gutes und Sicheres Gefühl gehabt Jeder Zeit wieder
Things to know
Total experience time
The total experience time is 3h as it includes briefings and 2h for flying.
Weather
Good weather conditions are required for this flight to take place. The pilot may need to postpone or cancel your booking.
Cancellation policy
You can cancel up to 24 hours before the flight date.
What to bring
Feel free to bring your camera and sunglasses onboard.
We've got you covered
All Wingly flights are automatically covered by our Allianz insurance for claims up to €1,000,000. This covers all passengers and their belongings.
Learn more about the insurance
Frequently asked questions