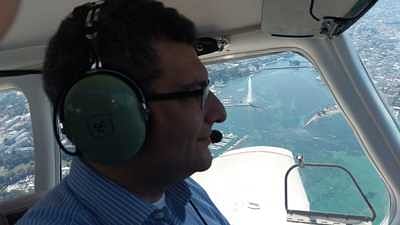 Excursion flight
You will fly from Genève to Locarno to enjoy your time there, then you will fly back.
View flight plan
Private pilot
A private individual flying in their own free time who contributes to the total price through cost sharing.
Description
Une petite excursion à Locarno pour un déjeuner à l'aéroport (très bon resto). Route: Valais, Mont Blanc et Matterhorn en vue, via Simplon ou San Giacomo, approche via le Lac Majeur. Après la pause midi (extension possible) retour via le Col du Gothard, Grimsel le Lac de Thoune à Genève. A short day-trip to Locarno for lunch at the airport. Route: Wallis, Mont Blanc and Matterhorn in sight, via Simplon or San Giacomo approaching across Lake Maggiore. After the lunch break (possibly extended) r...
Flight plan
Sightseeing points

Matterhorn
Simplon, Schweiz
Domodossola, Domodossola, Verbano-Cusio-Ossola, Italien
Aircraft
Verified by Wingly
Our team has thoroughly checked the pilots license and medical certificate.
Private pilot
A private individual flying in their own free time who contributes to the total price through cost sharing.
Flight Log
192 total flying hours • 67 flight hours in the last 12 months
Passionierter Pilot, der seinen Kindheitstraum mit Mitte 40 wahr gemacht hat. Ich freue mich auf Flüge mit interessanten Menschen, die auch eine Passion für die Luftfahrt haben, aber gerne auch Austausch zu anderen Themen, wie Wissenschaft und Diplomatie. Mehr über mein Fliegen: https://www.youtube.com/user/saschaschmeling Passionate pilot, who made his childhood dream come true in his 40s. I am looking forward to flying with interested and interesting people, who share a passion for aviatio...
Pilot reviews
Rundflug Genf-Chamonix-Martigny-Montreux-Genf

Expérience inoubliable. Super météo, vue extraordinaire sur le Mont Blanc, la vallée et le lac Léman. Sascha est très sympa et nous partage avec plaisir sa passion. On est reparti avec des superbes images en mémoire. A faire sans hésiter.
Things to know
Total experience time
The total experience time is 2h 45m as it includes briefings and 2h 45m for flying.
Weather
Good weather conditions are required for this flight to take place. The pilot may need to postpone or cancel your booking.
Cancellation policy
You can cancel up to 24 hours before the flight date.
What to bring
Feel free to bring your camera and sunglasses onboard.
We've got you covered
All Wingly flights are automatically covered by our Allianz insurance for claims up to €1,000,000. This covers all passengers and their belongings.
Learn more about the insurance
Frequently asked questions