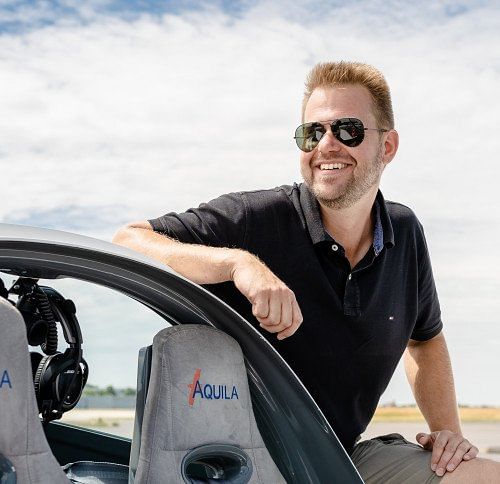 Sightseeing flight
You will fly from Braunschweig and come back. Enjoy the beautiful landscapes along the way.
View flight plan
Private pilot
A private individual flying in their own free time who contributes to the total price through cost sharing.
Description
Wir fliegen mit einer Aquila ab Braunschweig und erkunden die Region von oben. Der Flug dauert ca. 30 Minuten und die Route stimmen wir vorher gemeinsam ab. Am Vorabend melde ich mich bei Dir und wir besprechen die Wettervorhersage, denn anders als bei Linienflügen sind Rundflüge im Kleinflugzeug stark wetterabhängig und machen nur bei gutem Wetter Spaß. Am Tag des Rundfluges treffen wir uns am Flughafen in Braunschweig und besprechen alle Details zum Flug. Im Hangar führen wir die Vorflugkont...
Flight plan
Sightseeing points

Gifhorn, Deutschland
Wolfsburg, Deutschland
Braunschweig, Deutschland
Aircraft
Verified by Wingly
Our team has thoroughly checked the pilots license and medical certificate.
Private pilot
A private individual flying in their own free time who contributes to the total price through cost sharing.
Flight Log
247 total flying hours • 65 flight hours in the last 12 months
Hallo, ich bin Sebastian und fliege seit 2018 mit großer Begeisterung. Sicherheit steht für mich an erster Stelle. Wir fliegen mit einer zweisitzigen Aquila, welche professionell und gewerblich gewartet wird. Ich freue mich auf interessierte Mitflieger. Bei Fragen einfach mailen ;-)
Pilot reviews
✈️ Rundflug Harz

Der Flug hat richtig viel Spaß gemacht. Sebastian hat alles super erklärt! Toller Nachmittag

✈️ Rundflug Braunschweig und Umgebung

Rundum eine sehr gelungene Aktion!! Aufregend, interessant, sympathisch und kompetent vom Piloten Sebastian durchgeführt. Alles wurde erklärt, ich konnte Wünsche zur Route äußern und fühlte mich sehr wohl. Die Aussicht ist natürlich sensationell. Klare Weiterempfehlung.

✈️ Rundflug Harz

Super netter Kontakt und unkomplizierte und zuverlässige Durchführung! Wir haben den Flug als Geschenk genutzt, es ist super angekommen und der Beschenkte kommt aus dem Schwärmen nicht mehr heraus 😊

✈️ Rundflug Harz

Ein tolles Erlebis. Es hat sehr viel Spass gemacht mit Sebastian zu fliegen. Er hat sich viel Zeit genommen alles zu erklären und war sehr nett. Vielen Dank und gerne wieder.

✈️ Rundflug Braunschweig und Umgebung

Das war ein toller Flug mit Sebastian! Ich durfte beim Maschinencheck dabei sein und er hat alles erklärt. Ein wirklich schönes Erlebnis! Gerne wieder!
Things to know
Total experience time
The total experience time is 30m as it includes briefings and 30m for flying.
Weather
Good weather conditions are required for this flight to take place. The pilot may need to postpone or cancel your booking.
Cancellation policy
You can cancel up to 24 hours before the flight date.
What to bring
Feel free to bring your camera and sunglasses onboard.
We've got you covered
All Wingly flights are automatically covered by our Allianz insurance for claims up to €1,000,000. This covers all passengers and their belongings.
Learn more about the insurance
Frequently asked questions