Christmas Sale 🎄
Save up to €50 with code XMAS.
Almost late for your Christmas shopping👇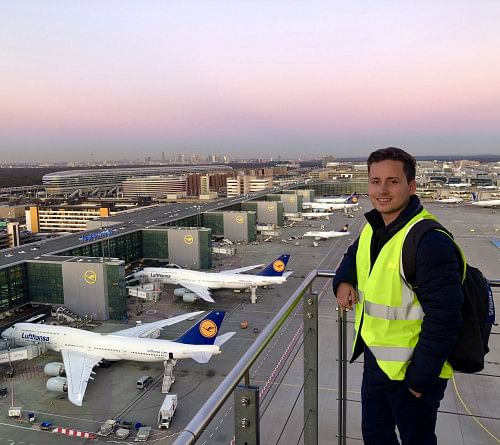 Sightseeing flight
You will fly from Mainz and come back. Enjoy the beautiful landscapes along the way.
View flight plan
Private pilot
A private individual flying in their own free time who contributes to the total price through cost sharing.
Description
Wir starten in Mainz-Finthen und fliegen den Rhein entlang Richtung Norden. Vorbei an unzähligen kleinen Burgen und Weinbergen geht es zur Loreley. Eine wunderschöne und einzigartige Landschaft erwartet uns! Nun kehren wir um und fliegen den Taunus entlang Richtung Frankfurt. Je nach Verkehrslage ist ein spektakulärer Flug entlang des Mains vorbei an der Skyline möglich. Alternativ fliegen wir nördlich am Fernsehturm und der Skyline entlang. Von hier haben wir einen super Ausblick auf die Stad...
Flight plan
Sightseeing points

Loreley, Deutschland
Großer Feldberg, Schmitten, Deutschland
Frankfurt, Deutschland
Aircraft
Verified by Wingly
Our team has thoroughly checked the pilots license and medical certificate.
Private pilot
A private individual flying in their own free time who contributes to the total price through cost sharing.
Flight Log
120 total flying hours • 14 flight hours in the last 12 months
Luftfahrt ist meine Leidenschaft! Sowohl beruflich bei der Deutschen Flugsicherung, als auch in meiner Freizeit vom Steuer eines Kleinflugzeuges darf ich meine Faszination nun ausleben. Gerne würde ich Ihnen diese Welt auch ein bisschen näher bringen oder sie einfach gemütlich auf einer schönen Erkundungstour mitnehmen und dazu einladen die Welt von oben aus einem neuen Blickwinkel kennen zu lernen. Ich kenne mich bestens in der Fliegerei aus und gebe Ihnen gerne bei Bedarf einen tiefen Einbl...
Pilot reviews
Rhein Rundflug Mainz bis Koblenz

Mathis ist ein sehr sympathischer und auch wirklich sehr empfehlenswerter Pilot. Es hat uns sehr Spaß gemacht mit ihm zu fliegen. Wenn es um Rundflüge geht, dann ab jetzt immer bei ihm!

Frankfurt Skyline XL Mainz - Darmstadt - Taunus (3 Plätze)

Wir hatten einen sehr schönen und interessanten Flug mit Mathis. Absolute Empfehlung!

Frankfurt Skyline Rundflug XL - Mainz - Darmstadt - Taunus

Mathis ist ein super netter Pilot. Ich hatte meinen ersten Flug bei Ihm und war positiv überrascht. Er geht direkt auf persönliche Wünsche ein und beantworte gerne die Fragen. Ich hatte einen tollen Flug und freue mich auf weiter

Frankfurt Skyline Rundflug XL - Hanau - Darmstadt - Taunus

Vielen Dank! Mathis ist ein Super- Pilot. Es war der Erstflug für meinen Enkel ( 6 Jahre). Mathis hat ihm alles erklärt. Flugwünsche wurden berücksichtigt. Mein Enkel und ich waren von der Freundlichkeit und dem Service begeistert. Kann man nur weiterempfehlen . Danke!!!! Detlev und Ben

privater Rhein Rundflug + FFM Skyline - Mainz - Loreley

Wunderbares Erlebnis . Die Route war super ausgewählt und alles hat gepasst . Mathis hat uns vor Abflug und während des Fluges die Abläufe erklärt und hatte immer ein offenes Ohr für unsere Fragen . Sogar ein Flug entlang des Mains und der Skyline von FFM war möglich ! Vielen Dank für dieses tolle Erlebnis.
Things to know
Total experience time
The total experience time is 1h 15m as it includes briefings and 1h 15m for flying.
Weather
Good weather conditions are required for this flight to take place. The pilot may need to postpone or cancel your booking.
Cancellation policy
You can cancel up to 24 hours before the flight date.
What to bring
Feel free to bring your camera and sunglasses onboard.
We've got you covered
All Wingly flights are automatically covered by our Allianz insurance for claims up to €1,000,000. This covers all passengers and their belongings.
Learn more about the insurance
Frequently asked questions