Christmas Sale 🎄
Save up to €30 with code XMAS.
Almost late for your Christmas shopping👇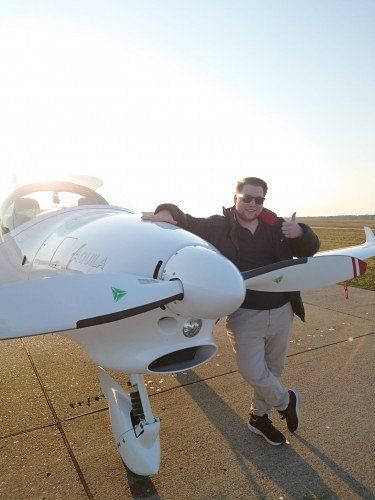 Sightseeing flight
You will fly from Hannover and come back. Enjoy the beautiful landscapes along the way.
View flight plan
Private pilot
A private individual flying in their own free time who contributes to the total price through cost sharing.
Description
Sie haben sich schon immer einmal gefragt, wie der Sonnuntergang von oben aussieht? Perspektivenwechsel Boden <> Luft: Dann ist der Dämmerungs-/Sonnenuntergangsflug genau das Richtige für Sie und zwei weitere Passagiere. Wir starten kurz vor Sonnenuntergang vom nordischen Drehkreuz Hannover, fliegen Richtung Westen zum Steinhuder Meer. Die Spiegelungen der Abendsonne über Niedersachsens größten Binnensees sind einer der schönsten Ambiente die man hier in der Region finden kann. Das Erlebnis und ...
Flight plan
Sightseeing points

Steinhuder Meer, Wunstorf, Deutschland
Wunstorf, Deutschland
Flughafen Hannover (HAJ), Flughafenstraße, Langenhagen, Deutschland
Aircraft
Verified by Wingly
Our team has thoroughly checked the pilots license and medical certificate.
Private pilot
A private individual flying in their own free time who contributes to the total price through cost sharing.
Flight Log
180 total flying hours • 85 flight hours in the last 12 months
Junger Pilot, 22 Jahre alt, in Hannover stationiert, für jeden Spaß zu haben
Pilot reviews
Die schönsten Ecken der Region Hannover (3 P.)

Wir hatten das Vergnügen einen Rundflug mit Yannik über Hannover und Umgebung zu erleben. Yannik ist ein kompetenter Pilot und stand uns jederzeit für Rückfragen gerne zur Verfügung. Er hat uns Einblicke in die Aufgaben eines Piloten gegeben, was sehr interessant war. Es war ein unglaublich tolles Erlebnis Hannover von oben zu sehen und man bekommt völlig neue Eindrücke der Stadt. Vielen Dank Yannik und eine absolute Weiterempfehlung für jeden!

Die schönsten Ecken der Region Hannover (1 P.)

Ich hatte einen tollen Flug mit Yannik. Er ist ein sehr sympathischer Mensch und ein toller, verantwortungsbewußter Pilot. Bevor es los ging hat er mir den Check erklärt. Während des Fluges fragte er immer wieder nach Wünschen, was ich mal von oben sehen möchte. Die Region aus der Luft zu sehen war ein tolles Erlebnis. Danke dafür Yannik, dass werden wir auf jeden Fall wiederholen!!!

Dämmerungs-/Sonnenuntergangsflug (1 P.)

Yannik war sehr flexibel sowie vorausschauend/vorsichtig, was die Terminplanung anging, damit auch wirklich alles glatt läuft. Am Flugtag sind wir zunächst alle wichtigen Punkte für den Rundflug zusammen durchgegangen, was gerade für nicht flugerfahrene Mitfliegende sehr interessant ist. Zudem ist er sehr entspannt, so dass man an Bord neben spannenden Fakten auch den ein oder anderen Lacher haben wird. Ich habe mich die gesamte Zeit sehr sicher und wohl gefühlt. Immer gerne wieder!

Die schönsten Ecken der Region Hannover (3 P.)

Es war ein traumhafter Flug Unsere Pilot Yannick war sehr aufmerksam, hat uns alles gut erklärt, war sehr freundlich ohne Stress . Besonders hat er uns immerwieder nach unserem Empfinden gefragt und war auch mal zu einem kleinen Spaß aufgelegt. Ein wirklich toller Flug. Ganz herzlichen Dank an Yannick Wir kommen wieder

Ausflug nach Innsbruck (2 P.)

Ich habe ohne richtigen Plan einen Gutschein über wingly erworben, um damit meine Frau zu überraschen. Bei der Suche nach einem Flug bin ich auf Yannik gestoßen und wir haben zusammen einen super Tag geplant. Aufgrund von Wetter und vielen Terminen, mussten wir leider öfter der Flug verschieben- trotzdem hat Yannik immer wieder neue Vorschläge unterbreitet und wir sind bis zur Umsetzung in Kontakt geblieben. Nun zum Flug selber: Vorab gab es eine genaues Briefing und wir wurden perfekt vorberei...
Things to know
Total experience time
The total experience time is 30m as it includes briefings and 30m for flying.
Weather
Good weather conditions are required for this flight to take place. The pilot may need to postpone or cancel your booking.
Cancellation policy
You can cancel up to 24 hours before the flight date.
What to bring
Feel free to bring your camera and sunglasses onboard.
We've got you covered
All Wingly flights are automatically covered by our Allianz insurance for claims up to €1,000,000. This covers all passengers and their belongings.
Learn more about the insurance
Frequently asked questions