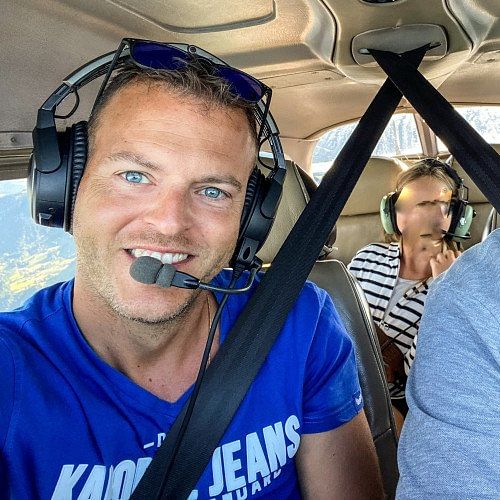 Sightseeing flight
You will fly from Gruyères and come back. Enjoy the beautiful landscapes along the way.
View flight plan
Private pilot
A private individual flying in their own free time who contributes to the total price through cost sharing.
Description
Le coucher de soleil a quelque chose de romantique, par les couleurs qui envahissent le ciel et métamorphosent les paysages. Mais aussi, il y a un symbolique... le soleil disparaît, marquant ainsi la fin d'une journée, pour mieux revenir le lendemain. Vu du ciel, cet événement de la journée s'assimile à un moment plein de magie. Ce moment ne dure que quelques instants, le spectacle changeant de minute minute. Pour réaliser ce vol dans les meilleures conditions et profiter du plus joli spectacl...
Flight plan
Sightseeing points

Montreux, Suisse
Romont, Suisse
Fribourg, Suisse
Aircraft
Verified by Wingly
Our team has thoroughly checked the pilots license and medical certificate.
Private pilot
A private individual flying in their own free time who contributes to the total price through cost sharing.
Flight Log
360 total flying hours • 175 flight hours in the last 12 months
English / Deutsch / Français --- - --- Fou d'aviation depuis le plus jeune âge! Types de licence: - PPL(A) - Aerobatic Rating (A) --- - --- Je vole très régulièrement différents avions pour maintenir mon "savoir-piloter" et cherche sans arrêt à accroître mes connaissances théoriques et pratiques. Partager ma passion est source de motivation!
Pilot reviews
De la Gruyère aux 3-Lacs (Grande Cariçaie et Ile St-Pierre)

Très chouette expérience avec un pilote bienveillant et rassurant. Un grand merci à lui.

La splendeur des Alpes bernoises depuis Gruyères en avion

Magnifique vol sur les Alpes. L avantage de voler en fin de journée, ce sont les ombres qui donnent du relief aux montagnes. Charles est un excellent pilote, très calme que je recommande chaudement. Merci pour cette belle expérience.

Le coucher de soleil vu du ciel, de la Gruyère au Lavaux

Vol superbe. Une très bonne expérience sans doute à refaire.

Des cols mythiques aux glaciers de renom en avion

Top Pilot hat uns ausgiebig die Region gezeigt und erklärt. War eine Tolle Erfahrung. Vielen Dank Charles

Vol à CHF 255.-

Nous sommes ravis de notre expérience avec Charles, pendant 1h30! Nous te remercions pour ta flexibilité avant et pendant le vol, de nous avoir fait partager ta passion et découvert les sommets des pré-alpes ainsi que les beautés des grands lacs romands. C'était tout simplement génial! Merci et bonne continuation!
Things to know
Total experience time
The total experience time is 45m as it includes briefings and 45m for flying.
Weather
Good weather conditions are required for this flight to take place. The pilot may need to postpone or cancel your booking.
Cancellation policy
You can cancel up to 24 hours before the flight date.
What to bring
Feel free to bring your camera and sunglasses onboard.
We've got you covered
All Wingly flights are automatically covered by our Allianz insurance for claims up to €1,000,000. This covers all passengers and their belongings.
Learn more about the insurance
Frequently asked questions