Christmas Sale 🎄
Save up to €30 with code XMAS.
Almost late for your Christmas shopping👇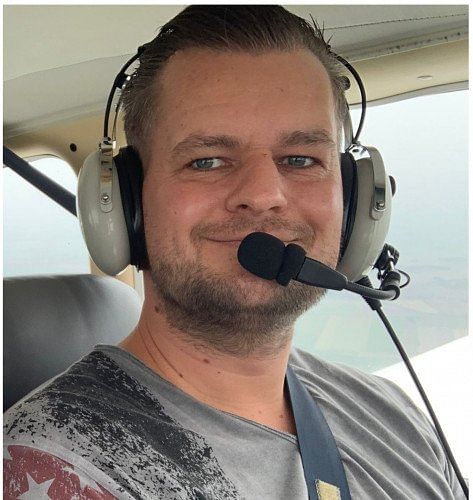 Sightseeing flight
You will fly from Karlshöfen and come back. Enjoy the beautiful landscapes along the way.
View flight plan
Private pilot
A private individual flying in their own free time who contributes to the total price through cost sharing.
Description
Wir starten in Karlshöfen und fliegen vorbei an Worpswede, OHZ und Ritterhude zur Bremer Überseestadt. Von dort fliegen wir in die Kontrollzone des Bremer Flughafens ein und überqueren das Stadtgebiet. Je nach Freigabe durch den Tower geht es für eine Runde über die Stadt oder einmal von Nord nach Süd durch die Kontrollzone, die wir dann wahlweise im Nordosten oder Süden wieder verlassen. Auf dem Hin- und Rückflug können wir gerne auf euren Wunsch hin Orte und interessante Punkte entlang der Rou...
Flight plan
Sightseeing points

Bremer Dom, Sandstraße, Bremen, Germany
Altstadt, Bremen, Germany
Weserstadion, Bremen, Germany
Aircraft
Verified by Wingly
Our team has thoroughly checked the pilots license and medical certificate.
Private pilot
A private individual flying in their own free time who contributes to the total price through cost sharing.
Flight Log
95 total flying hours • 42 flight hours in the last 12 months
--- Achtung Fluginteressierte --- Aufgrund meiner privaten Auslastung nehme ich für 2022 und 2023 derzeit keine neuen Buchungen an. Wenn sich die Lage wieder etwas entspannt hat, werde ich meinen Kalender entsprechend anpassen. ------------------------------------------------- Moin, ich bin André und ich fühle mich nirgends wohler als im Cockpit :) Ich habe meine Lizenz noch nicht lange und stehe daher natürlich noch "voll im Saft" was das in der Ausbildung vermittelte Wissen angeh...
Pilot reviews
Rundflug ab Karlshöfen

Ein ausgezeichneter Flug mit einem ganz besonderen und sympathischen Piloten, der sich ganz viel Zeit genommen hat, alles genau zu erklären. Ich habe mich bei ihm sehr sicher gefühlt. Das wird bestimmt nicht mein letzter Flug mit ihm gewesen sein. Sehr zu empfehlen.

Rundflug über Bremen

Es war ein super Flug. Andrè ist ein Klasse Pilot und man merkt, dass er die Fliegerei liebt. Sogar Wünsche wurden berücksichtigt wie z.B. einen Tiefanflug über Bremen. Gerne jederzeit wieder

Küstenrundflug Jadebusen, Wangerooge, Cuxhaven

Es war ein sehr schöner Flug mit einem erfahrenen und überaus nettem Piloten. Ein weiterer Flug im Frühjahr 2023 wird folgen. Vielen Dank André

Rundflug über Bremen

Gute Kommunikation im Vorfeld, viele interessante Informationen vor und während des Fluges, sehr angenehme und entspannte Art von André, war alles zu unserer vollsten Zufriedenheit :)

Rundflug über Bremen

Super sympatischer Kerl, mega Erfahrung! Nur zu empfehlen!!
Things to know
Total experience time
The total experience time is 50m as it includes briefings and 50m for flying.
Weather
Good weather conditions are required for this flight to take place. The pilot may need to postpone or cancel your booking.
Cancellation policy
You can cancel up to 24 hours before the flight date.
What to bring
Feel free to bring your camera and sunglasses onboard.
We've got you covered
All Wingly flights are automatically covered by our Allianz insurance for claims up to €1,000,000. This covers all passengers and their belongings.
Learn more about the insurance
Frequently asked questions