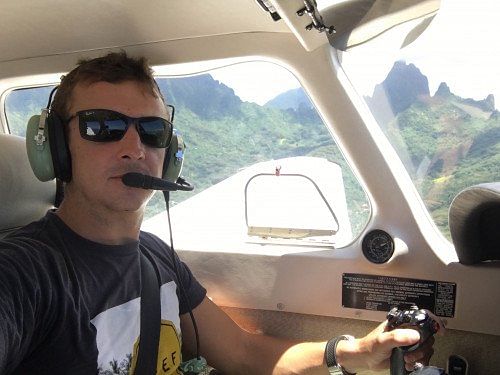 Sightseeing flight
You will fly from Pontivy and come back. Enjoy the beautiful landscapes along the way.
View flight plan
Private pilot
A private individual flying in their own free time who contributes to the total price through cost sharing.
Description
Prenez part à la découverte de la BRETAGNE SUD et de sa petite POLYNESIE. Nous découvrirons la ville close de CONCARNEAU et son joli port. Puis nous mettrons le cap vers les magnifiques ILES des GLENAN. La petite Polynesie métropolitaine. Nous poursuivrons par la pointe de Trevignon, la plage de KERFANY les PINS et la rivière du BELON ou sont produitent les célèbres huitres pour arriver à PONT AVEN. Enfin nous rentrerons vers PONTIVY. Nous pourrons bien sur adapter le vol à vos envies et à vot...
Flight plan
Sightseeing points

Rivière deBélonn, France
Pont-Aven, France
Ville close de Concarneau, Rue Vauban, Concarneau, France
Aircraft
Verified by Wingly
Our team has thoroughly checked the pilots license and medical certificate.
Private pilot
A private individual flying in their own free time who contributes to the total price through cost sharing.
Flight Log
3805 total flying hours • 80 flight hours in the last 12 months
Je m'appelle Gonzague et j'ai 38 ans. Cela fait plus de 20 ans que je suis pilote. Passionné d'avion depuis mes premiers pas, j'en ai fait mon metier en volant sur avion de l'aéronautique navale ou je totalise plus de 5000h. J 'ai pu parcourir des dizaines de pays sur FALCON 50, FALCON 200 et ATLANTIQUE 2. Maintenant je souhaite partager ma passion auprès de vous et vous transmettre tous mes petits coins secrets et mon expérience. Tous les balades proposées sont a titre indicative et peuve...
Pilot reviews
BELLE ILE, Iles de HOUAT et HOEDIC et le GOLFE DU MORBIHAN

Très belle expérience, une vue magnifique Merci à Gonzague pour sa sympathie et ce vol si bien détaillé...

Îles des Glénan et Pont-Aven

Souvenir inoubliable en compagnie de Gonzague un pilote d'une grande expérience ainsi que d'une grande gentillesse, sécurisant, attentif à ses passagers, ses explications concernant les différents sites survolés nous ont ravis . Merci

Îles des Glénan et Pont-Aven

Gonzague est un pilote compètent, expérimenté, pédagogue, doux et attentif. Il s'est adapté à nous et grâce à son savoir faire il nous a fait vivre un moment inoubliable. Ne hésitez pas à le contacter !

Douanenez, Brest, ile Ouessant, ile de Sein, Crozon,Penmarch

Pilote arrangeant et sympathique. Gonzague est très pédagogue et il connaît très bien la région. Vol très agréable. Nous le recommandons. Très bonne expérience.

Le Morbihan et le Finistère en un même vol

C'était Super 👍 Merci
Things to know
Total experience time
The total experience time is 1h 55m as it includes briefings and 1h 55m for flying.
Weather
Good weather conditions are required for this flight to take place. The pilot may need to postpone or cancel your booking.
Cancellation policy
You can cancel up to 24 hours before the flight date.
What to bring
Feel free to bring your camera and sunglasses onboard.
We've got you covered
All Wingly flights are automatically covered by our Allianz insurance for claims up to €1,000,000. This covers all passengers and their belongings.
Learn more about the insurance
Frequently asked questions