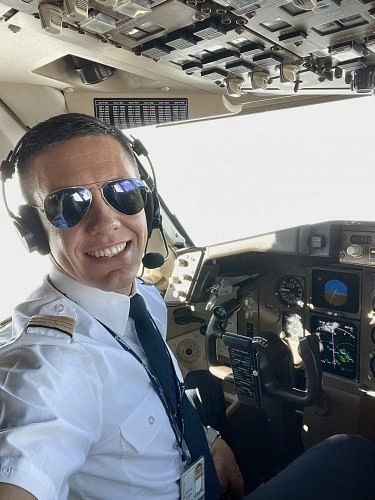 Sightseeing flight
You will fly from Stuttgart and come back. Enjoy the beautiful landscapes along the way.
View flight plan
Private pilot
A private individual flying in their own free time who contributes to the total price through cost sharing.
Description
Dieser Rundflug startet vom Flughafen Stuttgart und verbindet die wichtigsten Orte in der Metropolregion Stuttgart mit einer Auswahl berühmter Sehenswürdigkeiten für einen außergewöhnlichen Eindruck von der Schönheit und Vielfältigkeit der Umgebung um die Baden-Württembergische Landeshauptstadt. Nach dem Abflug von der Hahnweide, vorbei an Kirchheim unter Teck und einem schönen Blick auf die Burg Teck fliegen wir Richtung Göppingen und können dabei die A8 in Richtung ihres Teilers und Aufstiegs ...
Flight plan
Sightseeing points

Schorndorf, Deutschland
Kernen im Remstal, Deutschland
Schloss Ludwigsburg, Schlossstraße, Ludwigsburg, Deutschland
Aircraft
Verified by Wingly
Our team has thoroughly checked the pilots license and medical certificate.
Private pilot
A private individual flying in their own free time who contributes to the total price through cost sharing.
Flight Log
6500 total flying hours • 459 flight hours in the last 12 months
Ich bin der Andy, bin 38 Jahre alt und wohne im wunderschönen Waldenbuch in direkter Nähe zum Flughafen Stuttgart. Hauptberuflich fliege ich bei einer großen und der ältesten Ferienfluggesellschaft der Welt auf Airbus A330neo und bis Januar 2023 auf Boeing 757 und Boeing 767 an die schönsten Orte auf dieser Erde. Bevor ich 2015 zu dieser Airline wechselte, flog ich 6 Jahre lang vom Flughafen Stuttgart aus Privat- und Businessjets beim renommierten SFD - Stuttgarter Flugdienst. Nebst dem beruflic...
Pilot reviews
Flug zur Burg Hohenzollern

10 von 5 Sternen verdient! Wer technisch interessiert ist kann sich vor dem Flug schonmal Gedanken machen, was er vom Flugzeug immer mal wissen wollte. Andy kann alle Details schnell und anschaulich erklären. Er schafft eine super entspannte Atmosphäre, sodass man den Flug in vollen Zügen genießen kann. Andy ist ein routinierter und professioneller Pilot, bei dem wir uns jederzeit sicher gefühlt haben. Der Flug zur Burg Hohenzollern und an der Albkante entlang war ein wahnsinns Erlebnis. Bei uns...

Rundflug ab Stuttgart with Ulrich

Der Flug war sehr schön mit Andy

Rundflug ab Kirchheim unter Teck with Anna

WOW!!!! Das war ein unvergesslicher Flug! Ein fürsorglicher, netter Pilot, der sich um alles gekümmert hat und alles in Ruhe erklärt hat! Vielen Dank für diesen atemberaubenden Samstagvormittag über den Dächern der Schwäbischen Alb! :-) Alles Beste! Anna&Maik

Rundflug ab Stuttgart with Tobias

Sehr gute Kommunikation im Vorfeld des Fluges. Andreas vermittelte einen sehr zuverlässigen und überaus vertrauenswürdigen Eindruck, so dass wir sogar ein gutes Gefühl dabei hatten unsere Kinder für einen Flug in seine Obhut zu übergeben. Andreas nahm sich außer für den Flug auch noch zusätzlich viel Zeit um uns den Ablauf und das Flugzeug zu erklären. Er ging außerdem auf die Wünsche unserer Kinder ein und machte dieses Geschenk somit zu einem außergewöhnlichen und beeindruckenden Erlebnis. Wir...

Flug zur Burg Hohenzollern

Habe meinem Bruder den Flug geschenkt, er war vom Flug total begeistert. Kontakt mit dem Piloten Andi war sehr gut.
Things to know
Total experience time
The total experience time is 1h 10m as it includes briefings and 1h 10m for flying.
Weather
Good weather conditions are required for this flight to take place. The pilot may need to postpone or cancel your booking.
Cancellation policy
You can cancel up to 24 hours before the flight date.
What to bring
Feel free to bring your camera and sunglasses onboard.
We've got you covered
All Wingly flights are automatically covered by our Allianz insurance for claims up to €1,000,000. This covers all passengers and their belongings.
Learn more about the insurance
Frequently asked questions