Christmas Sale 🎄
Save up to CHF 100 with code SANTA.
Almost late for your Christmas shopping👇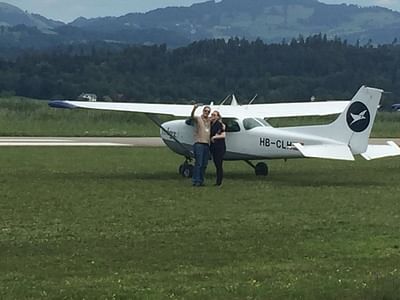 Sightseeing flight
You will fly from Hausen am Albis and come back. Enjoy the beautiful landscapes along the way.
View flight plan
Private pilot
A private individual flying in their own free time who contributes to the total price through cost sharing.
Description
Erlebe einen fantastischen Flug durch die Schweizer Alpen und den größten Gletscher der Alpen. Wir fliegen über Brunnen nach Andermatt, dann überfliegen wir den Furkapass in das Rhonetal bis nach Fiesch. Dort drehen wir ab und fliegen den Aletschgletcher entlang und überqueren die Alpen über das Jungfraujoch. Wir lassen die Jungfrau zu unser linken Seite liegen und fliegen an Mönch und Eiger vorbei. Von da aus gehen wir langsam in den Sinkflug Richtung Hausen über und fliegen auf dem Weg dahin n...
Flight plan
Sightseeing points

Brunnen, Ingenbohl, Switzerland
Altdorf, Switzerland
Amsteg, Silenen, Switzerland
Aircraft
Verified by Wingly
Our team has thoroughly checked the pilots license and medical certificate.
Private pilot
A private individual flying in their own free time who contributes to the total price through cost sharing.
Flight Log
300 total flying hours • 38 flight hours in the last 12 months
Private Pilot who loves to share flying with others
Pilot reviews
Rundflug Andermatt Jungfraujoch

Was a great event for us. Sebastian was and is an excellent pilot. We had a super flight, weather, and some points to talk about. Recommendation from my side. Yes, 100%.

Rundflug Andermatt Jungfraujoch

Der Flug mit Sebastian war großartig und ein ganz besonderes Erlebnis, es hat sehr viel Spaß gemacht! Die Flugstrecke ist beeindruckend und äusserst empfehlenswert. Zudem hat der Austausch mit Sebastian rund ums Fliegen viel Lust auf mehr gemacht, wir sind nicht das letzte mal geflogen! Nochmals vielen herzlichen Dank für dieses schöne Erlebnis, lieber Sebastian!

Rundflug um den Säntis ab Flughafen Zürich

Sehr Freundlich, Flexibel und ein guter Pilot.

Rundflug Andermatt Jungfraujoch

Sebastian was very kind and friendly, and he did his best to give a good flight although the weather didn't let to complete the route. It was an amazing experience and we will repeat a flight with him some day!

Rundflug Andermatt Jungfraujoch

Sebastian is very friendly, forthcoming and professional. You are in great hands and he will organize the flight according to your wishes. I had a great time and thank you, again!
Things to know
Total experience time
The total experience time is 1h 20m as it includes briefings and 1h 20m for flying.
Weather
Good weather conditions are required for this flight to take place. The pilot may need to postpone or cancel your booking.
Cancellation policy
You can cancel up to 24 hours before the flight date.
What to bring
Feel free to bring your camera and sunglasses onboard.
We've got you covered
All Wingly flights are automatically covered by our Allianz insurance for claims up to €1,000,000. This covers all passengers and their belongings.
Learn more about the insurance
Frequently asked questions