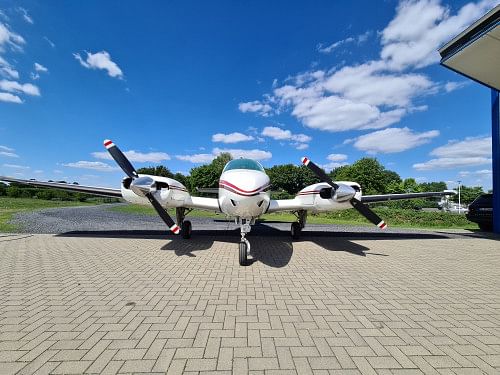 Private pilot
A private individual flying in their own free time who contributes to the total price through cost sharing.
Description
Von dem Flugplatz Borkenberge nach Norderney oder eine andere der ostfriesischen Inseln. Der Preis bezieht sich auf die einfache Strecke. Bei Transferflügen sind beide Flüge, auch ohne Paxe, zu bezahlen. Ich kann für jedes Ziel ein individuelles Angebot über Wingly erstellen. Einfach über die Messengerfunktion anfragen.
Aircraft
Verified by Wingly
Our team has thoroughly checked the pilots license and medical certificate.
Private pilot
A private individual flying in their own free time who contributes to the total price through cost sharing.
Flight Log
1009 total flying hours • 171 flight hours in the last 12 months
Ich bin mit der Fliegerei aufgewachsen, schon seit Beginn der 1970er begleitet mich diese Leidenschaft. Mein Vater besaß mehrere Flugzeuge und hat diese Leidenschaft gerne geteilt und Menschen inspiriert. In der nahen Zukunft werde ich die CPL -Ausbildung absolvieren nachdem ich die IR Ausbildung abgeschlossen habe in der ich mich zur Zeit befinde. Hauptberuflich arbeite ich im selektiven Stahlbetonrückbau. Weitere Infos hierzu unter: www.betonbohren.de
Pilot reviews
Rundflug mit einer Beechcraft Baron B55

Dieser Rundflung war ein tolles Flugerlebnis und hat uns sehr gut gefallen. Marcus hat uns alles rund um das Flugzeug und auch während des Fluges sehr ausfühlich erklärt und beschrieben. Ebenso ist er auf unsere individuellen Routen-Wünsche eingegangen. Er hat sehr viel Ruhe ausgestrahlt. Wir haben uns während des gesamten Fluges immer sicher gefühlt. Marcus ist ein sehr sympathischer Mensch. Wir können Flüge mit ihm als Pilot jeder Zeit weiterempfehlen und werden sicher wieder mit ihm fliegen.

Ein Flug entlang der Kontrollzone

Alles prima...

Das Ziel kannst Du selbst festlegen.

Wir sind total begeistert von der Erfahrung mit Marcus zu fliegen. Obwohl wir beide vorher ein mulmiges Gefühl hatten, konnten wir den Flug komplett genießen - auch weil Marcus uns mit seiner kompetenten und offenen Art vom Start bis zur Landung ein sicheres Gefühl gegeben hat. Dank seiner Erklärungen konnten wir zudem viel über das Fliegen und das Flugzeug erfahren. Am Ende war uns beiden klar: Das war definitiv nicht unser letzter Flug - und am liebsten auch wieder mit Marcus!

Das Ziel kannst Du selbst festlegen.

Marcus ist ein cooler Typ ,sympathisch ,nett und sehr professionell.Flug war super ,alle Wünsche erfüllt .War ein einzigartiges Erlebnis.Sehr gerne wieder alles in allem nur zu empfehlen.

Das Ziel kannst Du selbst festlegen.

Ein perfektes Flugerlebnis!!! Mein Mann hat zu seinem Geburtstag von mir einen Flug bei Marcus geschenkt bekommen. Der Kontakt lief reibungslos und einfach ab. Man hat sich von Anfang an in guten Händen gefühlt. Für meinen Mann ist ein Kindheitstraum in Erfüllung gegangen, welcher durch Marcus immer in Erinnerung bleiben wird! Marcus hat eine sehr lockere und hoch professionelle Art, durch welche man den Spaß am fliegen von Anfang an genießen kann. Komplizierte technische Vorgänge sind von Mar...
Things to know
Total experience time
The total experience time is 40m as it includes briefings and 40m for flying.
Weather
Good weather conditions are required for this flight to take place. The pilot may need to postpone or cancel your booking.
Cancellation policy
You can cancel up to 24 hours before the flight date.
What to bring
Feel free to bring your camera and sunglasses onboard.
We've got you covered
All Wingly flights are automatically covered by our Allianz insurance for claims up to €1,000,000. This covers all passengers and their belongings.
Learn more about the insurance
Frequently asked questions