Christmas Sale 🎄
Save up to €15 with code XMAS.
Almost late for your Christmas shopping👇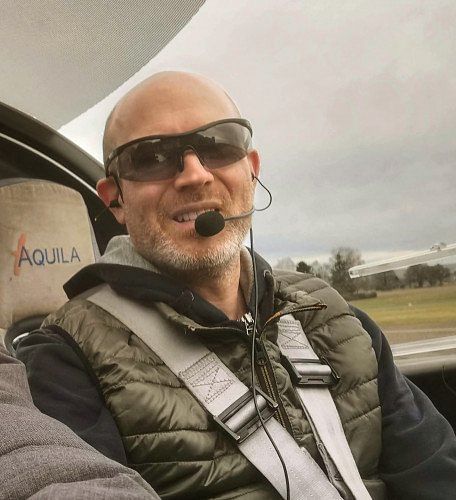 Sightseeing flight
You will fly from Pattonville and come back. Enjoy the beautiful landscapes along the way.
View flight plan
Private pilot
A private individual flying in their own free time who contributes to the total price through cost sharing.
Description
Willkommen an Bord. Schön, dass Du Dich für diesen Flug interessierst! Der mittlere Neckarraum mit seinen Metropolen, der Oberrheingraben, der Schwarzwald, die schwäbische Alb, Oberschwaben, die Bodenseeregion, Hohenlohe, Ostwürttemberg etc. zählen zu den landschaftlich schönsten und abwechslungsreichsten Gegenden Deutschlands weswegen ein Rundflug im Südwesten besonders lohnt. Gleich ob Stadt oder Land, Sightseeing oder Luftwandern, Aviation Geek oder Genussmensch. Lass mich Deine Wünsche wis...
Aircraft
Verified by Wingly
Our team has thoroughly checked the pilots license and medical certificate.
Private pilot
A private individual flying in their own free time who contributes to the total price through cost sharing.
Flight Log
232 total flying hours • 10 flight hours in the last 12 months
Familienvater, Jurist, Pilot, Radfahrer - so würde ich mich kurz beschreiben. Ich bin in leitender Funktion in einem Versicherungskonzern tätig. Schon immer war es mein Traum, zu fliegen. Als Kind bin ich oft mit dem Rad zum Stuttgarter Flughafen gefahren. Dort saß ich auf einem Baum in der Anfluggrundlinie und habe dem Flugbetrieb zugesehen. Den Baum gibt es leider nicht mehr, meine Leidenschaft für's Fliegen ist geblieben! Seit 2012 bin ich im Besitz der Privatpilotenlizenz PPL(A) und darf ei...
Pilot reviews
Rundflug über Stuttgart, die Schwäb. Alb und den Bodensee

Rudolf ist ein sehr erfahrener und zuverlässiger Pilot. Die Abstimmung vor dem Flug war super, ich war rechtzeitig und umfassend über die Wetterlage informiert. Der Flug selber war auch trotz kurzfristiger und unerwarteter Wetteränderung ganz entspannt und interessant. Ich habe mich zu jeder Zeit sicher gefühlt. Rudolf erklärt viel und berücksichtigt bei der Flugroute auch die Wünsche der Passagiere. Wir hatten einen wunderschönen Tag und wenn ich nochmal fliege, dann gerne wieder mit Rudolf.

Rundflug über Stuttgart und die Schwäbische Alb

Einfach souverän. Es war ein tolles Erlebnis.

Rundflug zu Zweit nach Deinen Wünschen (60 min)

Der Flug "nach meinen Wünschen" war genau das - und noch viel mehr! Zusätzlich zum Überflug meiner Wohnung habe ich noch eine Landung mit Tankstopp in Mosbach bekommen, weil ich Starts und Landungen einfach super-interessant finde. Rudolf ist extrem sicher im Umgang mit der Maschine, selbst, als sich die Windrichtung kurzfristig geändert hatte. Er behält komplett die Ruhe und schafft es auch noch, mir viele Dinge nebenher zu erklären. Für mich ganz klar: das muss ich dringend nochmal machen, u...

Rundflug auf Deiner Wunschroute (60 min)

Die Abstimmung mit Rudolf war bereits vor dem Flug perfekt! Vor dem Start erfolgte eine sehr gute Einweisung an und in der Maschine (AQUILA). Nach dem Start war Rudolf ein immer souveräner und ausnehmend ruhig und sicher fliegender Pilot. Der Flug ging von Pattonville rund um Stuttgart über die Schwäbische Alb bei sehr schönem und sonnigem Herbstwetter mit nur leichter Bewölkung. Trotz seiner "Arbeit" beim Fliegen hatte er immer Zeit für umfangreiche Erklärungen zu seinen Aktivitäten in der Masc...

Rundflug auf Deiner Wunschroute (45 min)

Der Rundflug mit Rudolf um Stuttgart war ein super Erlebnis. Kann Rudolf als Piloten nur weiterempfehlen. Rudolf geht auf alle Fragen ein, macht eine super Einweisung vor Ort und die Organisation läuft auch unproblematisch ab. Habe mich von Anfang bis Ende des Fluges immer sehr sicher und gut aufgehoben gefühlt, obwohl ich vor dem Flug schon sehr aufgeregt war. Der Flug fand bei super Wetter und einer tollen Sicht statt. Durch die ausführlichen Erklärungen zu den Luftströmungen usw. durch Rudolf...
Things to know
Total experience time
The total experience time is 2h as it includes briefings and 1h for flying.
Weather
Good weather conditions are required for this flight to take place. The pilot may need to postpone or cancel your booking.
Cancellation policy
You can cancel up to 24 hours before the flight date.
What to bring
Feel free to bring your camera and sunglasses onboard.
We've got you covered
All Wingly flights are automatically covered by our Allianz insurance for claims up to €1,000,000. This covers all passengers and their belongings.
Learn more about the insurance
Frequently asked questions