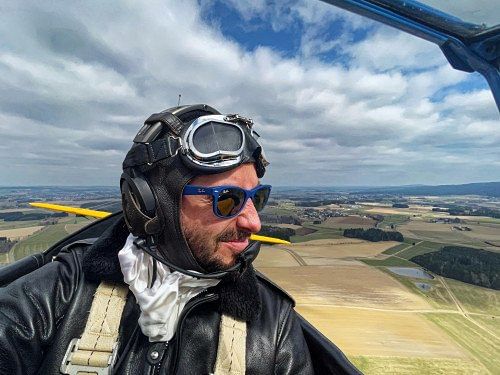 Sightseeing flight
You will fly from Zell im Fichtelgebirge and come back. Enjoy the beautiful landscapes along the way.
View flight plan
Private pilot
A private individual flying in their own free time who contributes to the total price through cost sharing.
Description
Einzigartiges Erlebnis in einem Flugzeug mit viel Geschichte. Die Route wird for dem Flug abgesprochen. Die Durchführbarkeit des Rundfluges an dem jeweiligen Tag hängt ab von den Wind- und Sichtverhältnissen. Sollte auf Grund der Wetterbedingungen der Flug nicht stattfinden können, wird der Pilot mit Ihnen einen Ersatztermin vereinbaren.
Aircraft
Verified by Wingly
Our team has thoroughly checked the pilots license and medical certificate.
Private pilot
A private individual flying in their own free time who contributes to the total price through cost sharing.
Flight Log
1500 total flying hours • 100 flight hours in the last 12 months
Ich fliege seit meinem 14ten Lebensjahr Segelflugzeuge und dann später auch Motorflugzeuge. Auch beruflich bin ich der Fliegerei verbunden, ich bin certifying staff für Business Jets.
Pilot reviews
Stearman PT17 Rundflug - Doppeldecker Erlebnis

Ein unvergessliches Erlebnis, bei dem man nicht nur einfach in der Maschine sitzt, sondern auch deren Geschichte und die überflogene Landschaft erklärt bekommt. Der Flug ist jedem Interessierten ans Herz zu legen, vielen Dank an Andreas.

60 Min. Oberfranken

Es war unser erster Mitflug in einer kleinen Maschine und deshalb waren wir gespannt, welches Abenteuer uns erwartet. Andreas hat es souverän verstanden uns umfänglich einzuweisen und jede Frage zu beantworten. Er ist sehr freundlich und wir haben uns wohl und sicher aufgehoben gefühlt. Seine Begeisterung für das Fliegen ist ansteckend. Auf unsere Wünsche zur Flugroute ist er jederzeit eingegangen. Wir können jedem Interessierten empfehlen mit Andreas zu fliegen. Bis zum nächsten Mal.

60 Min. Oberfranken

dickes fettes Dankeschön an Andreas für dieses wundervolle Erlebniss. Die 2 Flugneulinge sind immernoch hell auf begeistert. (meine Mam wollte garnicht mehr runter), super auch das das Wetter noch so klasse mitgespielt hat. Dieses Geschenk wird Sie definitiv nie vergessen

60 Min. Oberfranken

Kommunikation war Top, Andreas super sympathisch und mein Freund mega happy! Jederzeit gerne wieder☺️

60 Min. Oberfranken

Super cooler Pilot, war von Anfang bis Ende ein Erlebnis. Sehen uns bestimmt wieder.
Things to know
Total experience time
The total experience time is 20m as it includes briefings and 20m for flying.
Weather
Good weather conditions are required for this flight to take place. The pilot may need to postpone or cancel your booking.
Cancellation policy
You can cancel up to 24 hours before the flight date.
What to bring
Feel free to bring your camera and sunglasses onboard.
We've got you covered
All Wingly flights are automatically covered by our Allianz insurance for claims up to €1,000,000. This covers all passengers and their belongings.
Learn more about the insurance
Frequently asked questions