Christmas Sale 🎄
Save up to €100 with code XMAS.
Almost late for your Christmas shopping👇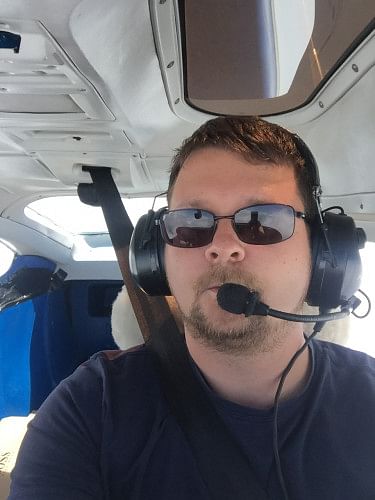 Excursion flight
You will fly from Hannover to Norderney to enjoy your time there, then you will fly back.
View flight plan
Private pilot
A private individual flying in their own free time who contributes to the total price through cost sharing.
Description
Tagesausflug auf die Insel Norderney. Morgens früh hin und abends zurück.
Aircraft
Verified by Wingly
Our team has thoroughly checked the pilots license and medical certificate.
Private pilot
A private individual flying in their own free time who contributes to the total price through cost sharing.
Flight Log
1400 total flying hours • 400 flight hours in the last 12 months
Hallo ich bin Christian, Ich starte ab dem Hannover Airport mit Euch zu einem gemeinsamen Ausflug! Ob Rundflug in der Region Hannover oder Insel Trip. Viele Ziele sind Möglich und können gerne Individuell angepasst werden. Beruflich arbeite Ich am Hannover Airport und somit Habe ich Tagtäglich mit Flugzeugen kontakt. Ich würde mich freuen wenn wir einmal miteinander Fliegen!
Pilot reviews
Tagesausflug nach Sylt (3h)

5 Sterne beschreibt es sehr gut . Wir hatten einen wundervollen Tag mit einem super Piloten !

Flug nach Sylt

Für das Wetter und die Turbulenzen konnte Christian nichts! Er hat aber das Beste aus dem Flug gemacht. So ein ruhiger, erfahrener und souveräner Pilot - einfach super! Wir fliegen wieder mit dir! Vielen Dank Jens und Tanja

Tagesauflug auf die Insel

Ein sehr freundlicher und kompetenter Pilot, hat mega Spaß gemacht. Kann ich nur weiterempfehlen!

Rundflug über Hannover und Region

Super Pilot und schöne Route!

Trip nach Sylt

WOW :-)..... WAS FÜR EIN TOLLES ERLEBNIS!!!! VIELEN DANK CHRISTIAN FÜR DIESES ERLEBNIS BZW FLUG!... ES WAR DEN SCHÖNSTEN FLUG ÜBERHAUPT DEN WIR JE HATTEN!!! MAN FÜHLT SICH SO WOHL UND SICHER MIT CHRISTIAN!...SUPER KOMPETENT, SUPER SYMPATHISH; SUPER TYP HALT!!! MEIN MANN UND ICH FREUEN UNS JETZT SCHON AUF DAS NÄCHSTE FLUG MIT DIR CHRISTIAN :-) VIELEN DANK NOCHMALS UND WIR HOFFEN DU HATTEST EINE GUTE RÜCKFLUG;-) VON UNS 10000000000000000000000 * NADIYA & ULLI ( PORTA WESTFALICA NACH WEST...
Things to know
Total experience time
The total experience time is 2h 30m as it includes briefings and 2h 30m for flying.
Weather
Good weather conditions are required for this flight to take place. The pilot may need to postpone or cancel your booking.
Cancellation policy
You can cancel up to 24 hours before the flight date.
What to bring
Feel free to bring your camera and sunglasses onboard.
We've got you covered
All Wingly flights are automatically covered by our Allianz insurance for claims up to €1,000,000. This covers all passengers and their belongings.
Learn more about the insurance
Frequently asked questions