Christmas Sale 🎄
Save up to €50 with code XMAS.
Almost late for your Christmas shopping👇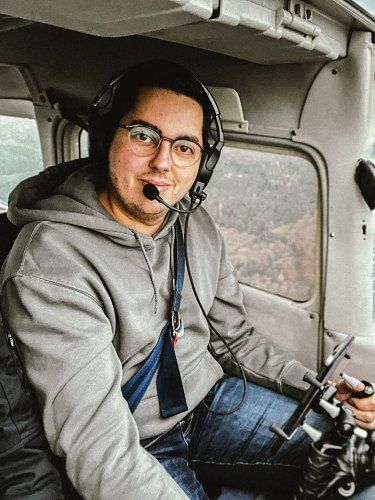 Sightseeing flight
You will fly from Egelsbach and come back. Enjoy the beautiful landscapes along the way.
View flight plan
Private pilot
A private individual flying in their own free time who contributes to the total price through cost sharing.
Description
Ein schöner Rundflug nach und um Mannheim! Wir starten in Egelsbach und fliegen über Griesheim und dem alten August-Euler-Flugplatz Richtung Worms und sehen unterwegs das AKW Biblis. An Worms vorbei folgen wir dem Rhein abwärts und sehen den Westen von Mannheim. Wir umfliegen die Stadt südlich, folgen der A67 an Bensheim vorbei und kehren über Darmstadt zurück nach Egelsbach!
Flight plan
Sightseeing points

Griesheim, Deutschland
Frankenthal (Pfalz), Frankenthal, Deutschland
Mannheim, Deutschland
Aircraft
Verified by Wingly
Our team has thoroughly checked the pilots license and medical certificate.
Private pilot
A private individual flying in their own free time who contributes to the total price through cost sharing.
Flight Log
250 total flying hours • 30 flight hours in the last 12 months
Hallo an alle Flugbegeisterten oder die, die es noch werden wollen! Ich bin Michael und freue mich, euch die Welt von oben zeigen und die Faszination Fliegen näher bringen zu können! Liebend gerne beantworte ich alle Fragen und werde alles tun, um euch einen unvergesslichen Tag zu bereiten! Änderungen der Route oder eigene Wünsche versuche ich immer zu berücksichtigen, wenn es die Umstände zulassen. Ich würde mich freuen, euch bald an Bord begrüßen zu dürfen :) Michael
Pilot reviews
Rundflug Rhein-Main komplett mit Piper PA28

Der Rundflug mit Michael war super! Es ging übers Rhein-Main-Gebiet über den Taunus, zurück entlang der Frankfurter Skyline. Michael hat großartig viel erklärt, alle Fragen beantwortet. Ich hab mich jederzeit super sicher und gut aufgehoben gefühlt. Jederzeit würde ich wieder mit Michael gemeinsam einen Rundflug machen. Das war wirklich ein traumhaft schönes Erlebnis!

Rundflug Frankfurt und Taunus kompakt mit Cessna 172

Super Erlebnis- Rundflug Frankfurt und Taunus, Michael hat uns im Vorfeld kontaktiert, um evtl. Unklarheiten zum Flug noch abzuklären und um unsere Fragen zu beantworten. Als es dann gestern losging, war uns schon etwas flau im Magen. Aber wir hatten einen kompetenten, freundlichen, rücksichtsvollen Piloten, der auch damit umgehen konnte. Sehr geduldig hat er unsere Fragen beantwortet und ist auf unsere Wünsche eingegangen. Er hat uns viel erklärt und uns einen wunderbaren Flug bei bestem Wette...

Rundflug Frankfurt und Taunus kompakt mit Piper PA28

Gelungenes Geburtstagsgeschenk :-) Ich denke, wir hätten keinen besseren Pilot haben können. Unser extra Wunsch über Seligenstadt zu fliegen wurde uns erfüllt. Eine Terminverschiebung unsererseits konnten wir problemlos verschieben. Uns wurde alles super erklärt und wir fühlten uns jederzeit gut aufgehoben. Sehr gerne können wir Michael weiterempfehlen.

Rundflug Frankfurt und Taunus kompakt mit Cessna 172S

Michael hat uns vor dem Flug ausführlich das Flugzeug erklärt. Der gesamte Flug war bei herrlichem Wetter ein tolles Erlebnis ! Er war absolut tough, ruhig, konzentriert, und die Funksprüche mit dem Tower am Flughafen Frankfurt in Englisch wie ein Berufspilot. Ich kann ihn nur weiterempfehlen ! Günther

Rundflug Ried, Worms und Rhein mit Cessna 172

Das gesamte Flugerlebnis mit Michael war phantastisch! Der Kontakt, Absprache und Terminfindung (Verschiebung durch schlechtes Wetter) war überaus angenhem und proaktiv. Michael hat sich schon in der Absprache viel Zeit für uns genommen, was sich beim Flug bestätigt hat. Wir haben zu jedem Zeitpunkt sehr gut aufgehoben und sicher gefühlt. Es war rundum ein tolles Erlebnis, welches wir jedem weiterempfehlen würden. Liebe Grüße :)
Things to know
Total experience time
The total experience time is 1h 5m as it includes briefings and 1h 5m for flying.
Weather
Good weather conditions are required for this flight to take place. The pilot may need to postpone or cancel your booking.
Cancellation policy
You can cancel up to 24 hours before the flight date.
What to bring
Feel free to bring your camera and sunglasses onboard.
We've got you covered
All Wingly flights are automatically covered by our Allianz insurance for claims up to €1,000,000. This covers all passengers and their belongings.
Learn more about the insurance
Frequently asked questions