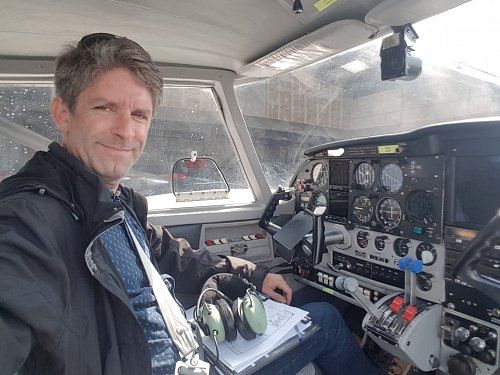 Excursion flight
You will fly from Valframbert to Morlaix to enjoy your time there, then you will fly back.
View flight plan
Private pilot
A private individual flying in their own free time who contributes to the total price through cost sharing.
Description
Survol de toute la côte nord de la Bretagne jusque Morlaix, voire Brest si vous préférez. Saint Malo, Bréhat, Perros Guirrec, et le Mont Saint Michel bien évidemment. Bien sûr possible de faire plus court, de se poser à Saint Brieuc ou Dinan en fonction de vos souhaits. Pour les amoureux de la Bretagne, des criques et des rochers des côtes d'Armor et du Finistère...
Flight plan
Sightseeing points

Saint-Malo, France
Bréhat, France
Perros-Guirec, France
Aircraft
Verified by Wingly
Our team has thoroughly checked the pilots license and medical certificate.
Private pilot
A private individual flying in their own free time who contributes to the total price through cost sharing.
Flight Log
310 total flying hours • 30 flight hours in the last 12 months
Jeune pilote professionnel bien qu'ayant déjà un peu d'âge, je serai ravi de vous emmener avec moi en avion dans l'un de mes deux avions préférés de l'aéroclub. Un DA20 biplace. Ou un DR400 à 4 places. J'ai moi même une jeune et grande famille, je ne prends aucun risque sur la sécurité, pour vous comme pour moi.
Pilot reviews
Survol du Mont Saint Michel depuis Valframbert

Hugo est un pilote formidable, très rassurant et agréable. La météo était exceptionnelle. Nous avons en sa compagnie passé un moment mémorable. Nous recommandons. Gabriel & Isabelle

Une journée à l'Ile d'Yeu

Super expérience partagée avec Hugo ! Un sérieux irréprochable, une passion partagée avec beaucoup d'entrain. Spéciale dédicace à Patrick notre hôtesse (MDR) qui lui aussi a partagé sans limite sa passion et les détails de notre vol avec une touche d'humour bien à lui. Je recommande +++ Hugo vous ne regretterez pas.

Une journée à l'Ile d'Yeu

Pilote parfait, à l'écoute malgré mon stress. Très professionnel et sachant bien expliquer. Vol parfait si ce n'était ma peur de voler qui est revenue sans aucune raison. À bientôt de revoler ensemble.

Survol du mont Saint Michel

Nous avons passé un très bon moment. Hugo est un pilote calme, rassurant, désireux de nous partager sa passion et de nous satisfaire tout simplement. Merci beaucoup Hugo.

Châteaux de la Loire depuis Alençon ou Le Mans

Très beau vol vers les châteaux de la Loire avec un superbe temps, de splendides châteaux et Hugo est très gentil. A conseiller
Things to know
Total experience time
The total experience time is 4h as it includes briefings and 4h for flying.
Weather
Good weather conditions are required for this flight to take place. The pilot may need to postpone or cancel your booking.
Cancellation policy
You can cancel up to 24 hours before the flight date.
What to bring
Feel free to bring your camera and sunglasses onboard.
We've got you covered
All Wingly flights are automatically covered by our Allianz insurance for claims up to €1,000,000. This covers all passengers and their belongings.
Learn more about the insurance
Frequently asked questions